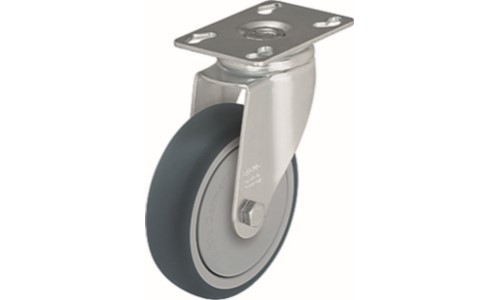 Caterers often use wheeled traps to dispose of used grease from deep fryers so that the used material can be removed quickly.
This process caused serious problems for a restaurant equipment supplier in the US, according to maker of castors, Blickle.
Soiling meant that the castors on which the oil containers run were blocked quite quickly in service.
This incurred considerable costs for the customer.
The restaurant equipment supplier manufactures deep fryers, heated display tables and waste oil collection equipment.
The company had problems with conventional castors for removable stainless steel grease traps and were used, for example, in canteen kitchens.
A quick exchange of the traps is very important in this environment so that disruption to operations is minimized.
However, it was found that corrosive cleaning chemicals had an adverse effect on the castors and impaired their steering behavior.
The blocked wheels frequently incurring high repair costs and delays.
To offer a solution, the Blickle team in the US "looked at the application on site and then proposed our LPA-PATH 50K-FK castors," said international sales manager Manuel Kraibühler.
The wheel specialist has developed a swivel castor with top plate fitting for this series.
It has a pressed steel housing and the Blickle riveting process of the swivel head results in minimal play with smooth running and a long service life.
The wheel is made of high-quality, thermoplastic polyurethane for quiet running with low rolling and pivoting resistance, even in oily environments.
When used daily, the wheels protected the floor and does not cause abrasion.
They could be used in conditions from minus 25 to 70 degrees Celsius without any problems.
The LPA-PATH is chemically bonded to the wheel centre, which ensures low wear.
The wheels can shift loads of up to 75 kg and are resistant to the most common cleaning agents and deep-frying oil used in the catering trade.
Blickle has adapted the hole pattern of the top plate fitting to the customer's existing system. Therefore, there were no design changes and additional tooling costs.
In order to help its customer comply to the National Sanitation Foundation (NSF) of the USA, Blickle designed a new castor based on the basic body of the original design.
The new bracket has a special fork width, and the thread guard has also been redesigned, resulting to NSF-certified series.