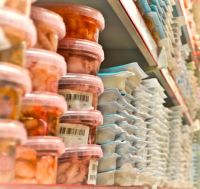 The Kingdom of Saudi Arabia's (KSA) food industry is undergoing a transformation with new societal trends such as social media, the internet, changing consumer purchasing patterns, urbanization, and fast-paced lifestyles impacting its dietary habits.
According to a report by Frost and Sullivan, KSA's government initiatives for food security and planned economic diversification are opening up tremendous untapped growth opportunities.
In a competitive ecosystem, successful players will be those that pursue new product development, marketing, promotion and distribution strategies.
The report finds that the total food industry in KSA accounted for 12% of its gross domestic product in 2016 and is expected to grow at a compound annual growth rate of 5.9% from 2016 through to 2020.
Chocolate confectionery, frozen foods, chilled processed foods, and snacks are the key growth segments.
"With all major supermarkets and hypermarkets in expansion mode, the private label segment is poised to experience significant growth over the next four years," says visionary science consultant David Anil Kumar.
"An increase from 5% to 10-15 % is expected by 2020."
"Major hypermarkets such as Danube and Carrefour are starting to promote their own private label-branded products that carry a perception of quality, while still being affordable."
The report states the current growth opportunities lie in:
– Targeting specific needs such as convenience, ease of preparation, health, and innovation,
– Building product innovation and differentiation through new flavors, formats, fancy packaging, fortification with nutrients, cooking processes, and 'healthy' options,
– Focusing on high-growth segments such as chocolate confectionery, frozen foods, chilled processed foods and snacks,
– Investing in new products and targeting the younger population to expand market share,
– Providing western foods or a fusion of western and native tastes for a large expat community and adventurous consumers and
– Developing a clear digital and social media-based promotional strategy to enhance brand equity among the younger generation.