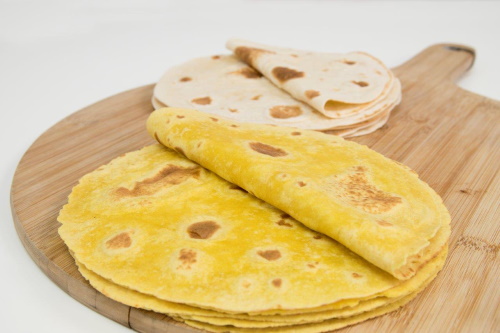 Campden BRI has successfully used food waste to double the fiber content of a tortilla, helping it achieve a 'high fiber' claim.
"The recipe we developed incorporated the butternut squash peel to boost its fiber content," said Bakery scientist Lucas Westphal, who is leading the project.
"Consumers like familiarity, so producing a high fiber product that is similar to a well-known one holds potential as an effective route to increasing the public's fiber intake."
The team working on the project replaced 20% of the tortilla's wheat flour with the butternut squash peel powder.
This increased the fiber content by 97%, up from 3.3g to 6.5g per 100g, but only reduced calories by 3.5%.
If marketed, the tortilla would now be eligible for a 'high fiber' claim making it more appealing to consumers interested in healthy eating.
Adding this food waste ingredient also delivered another benefit.
"Incorporating our butternut powder changed the color of the tortilla," said Bakery technologist Leandra Molina Beato, who helped reformulate the tortilla.
"Color plays a critical role in determining the consumer's acceptance of a probuct, and our reformulation created a golden yellow tortilla, a food color that's generally accepted as appealing."
"Trialling different fibers in different products is the only way to determine the impact on functionality and consumer appeal."
Barfoots of Botley which specializes in semi-exotic produce, provided the butternut squash peels as part of their sustainability work.
"The peel is currently used in our anaerobic digester, which produces electricity to run our factory and provides fertilizer for our crops," said Keston Williams, technical director.
"However, if the peel can be used for innovative healthy products like this, then this is the best place for it."
The research is part of a three-year project which aims to provide the food industry with an understanding of the functionality of dietary fibers, their performance and potential new sources.
The next phase of the research will begin trialing varying concentrations of commercial fibers in pizza bases, tomato sauces and in meatballs while assessing characteristics that may affect product quality and consumer acceptability.
Consumer and sensory trials will determine consumer acceptance of the reformulated products.
The 'Calorie Reduction and Fibre Enhancement' project will continue until December 2021.