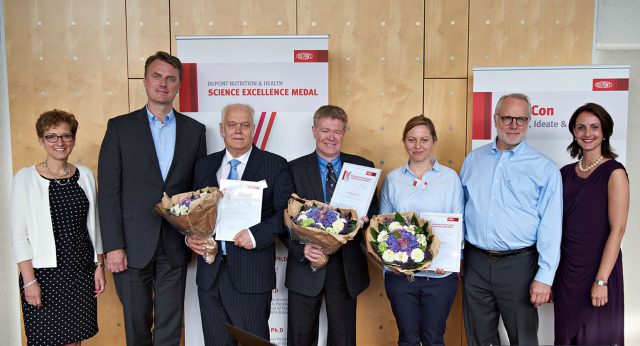 The Danisco Foundation has awarded three Science Excellence Medals for 2017 to senior scientists broadly recognized by DuPont Nutrition & Health for scientific excellence with a remarkable record of accomplishment relevant to the food and nutrition industry.
The recipients and their research are: 
· Sylvain Moineau, professor of Microbiology and Canada Research Chair in Bacteriophages, Université Laval, Canada
Moineau's research on bacteriophages has been toward host-phage interactions in Lactic Acid Bacteria; notably dairy starter bacteria.
This includes characterization of phages, their evolution in the industrial dairy environment and detailed mechanisms involved in the infection process.
Complementary to the phage biology, his laboratory researches bacterial host-phage resistance mechanisms that counter virulent phages which has direct application toward our dairy starter strain development.
· Raivo Vilu, head of chair – Faculty of Biotechnology, Technical University of Tallinn, Estonia, and R&D director – Competency Center of Food and Fermentation Technology, Tallinn Estonia
Vilu conducts research combining expertise on microbial physiology, fermentation, advanced analytics and 'omics technologies (comparative genomics, proteome and metabolomics), which is a unique and very powerful skill set.
He is focused on developing sophisticated software to control and on-line monitor fermentation processes, as well as high-level modelling of the cells.
· Kathrin Ohla, leader of the Psychophysiology of Food Perception group, German Institute of Human Nutrition, Potsdam-Rehbruecke Germany
Ohla aims to unravel the psychophysiological mechanisms underlying the perception and preference of food objects with a focus on the brain mechanisms of the sensory processes involved, particularly gustation, olfaction and vision.
She also wishes to focus on cross-modal and multisensory interactions, as well as modulations by attention and prior experience as well as physiological states.
"Science-based innovation ultimately depends on fundamental research," said Angela Naef, DuPont Nutrition & Health's global leader for Technology & Innovation and Danisco Foundation board member.
"Therefore, it is a great honor to be able to award the Science Excellence Medal to these three scientists in recognition of their significant accomplishments and the contribution each of them has made to the field of food and nutrition."
The award, formerly known as the Danisco Prize, was founded in 2002 by the Danisco Foundation to help improve food products, notably industrially produced foods.
It was last awarded in 2016.
The Danisco Foundation was established in 1981 and provides funding and grants to support predominantly food science and research.