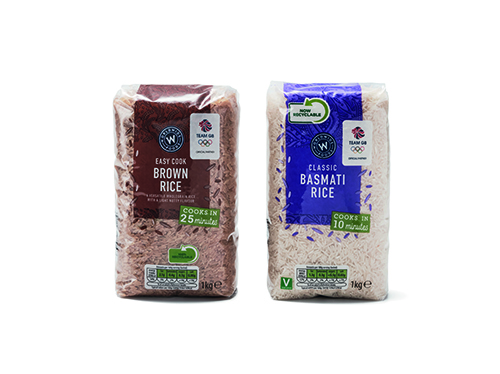 Coveris and UK rice supplier Veetee have launched a fully recyclable packaging for Aldi's branded rice.
Supporting the retailer's aim for 100% of its own-label packaging being reusable, recyclable or compostable by the end of the year, Coveris' fully recyclable MonoFlexE is used for two stock keeping units (SKUs) in the rice category.
Previously packed in a non-recyclable, OPP to PE mixed laminate, Aldi has switched to Coveris' fully recyclable MonoFlexE monomaterial PE to PE laminate packaging for their own-brand Worldwide Foods 1kg basmati rice and 1kg brown rice SKUs.
The move to MonoFlexE will enable approximately 30 tons of film to enter the soft plastic recycling stream annually.
The MonoFlexE packaging launched in January 2022 for 50% of the two SKUs, with the remaining 50% to switch throughout January and February.
The launch of MonoFlexE packaging for rice is the result of two-year development project with Veetee.
Packed in the same block bottom, form, fill seal, FFS, format, MonoFlexE for rice has been developed with like-for-like shelf-life properties and packing speeds as the former mixed laminate substrate.
It is available with up to nine colour HD flexo print and gloss or matt varnish for on-shelf appeal.