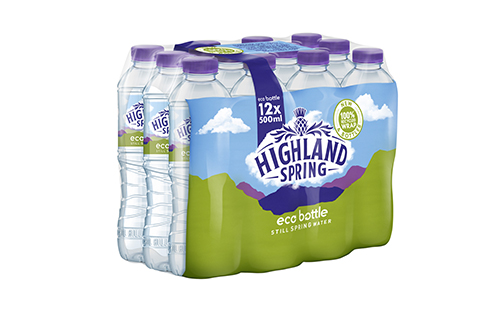 Highland Spring Group, a UK producer and supplier of natural source waters, has launched its most environmentally sustainable 'Eco Pack' to date using Coveris' Duralite R film.
The next generation 100% recycled and fully recyclable shrink film supports the businesses' journey to using 100% recycled materials across its packaging portfolio.
The Highland Spring 12 x 500ml multipack launched in January and is being trialed at 270 Sainsbury's stores across the UK.
Following the introduction of its range of 100% recycled and recyclable eco bottles in 2019, Highland Spring Group has continued its use of 100% recycled materials as part of their commitment to providing healthy hydration in an environmentally sustainable way.
Coveris' fully recyclable Duralite R polyethylene film for the Highland Spring multipacks features 100% recycled content comprising 50% post-consumer recyclate (PCR) and 50% post-industrial recycled material (PIW).
Supporting a circular economy for plastic packaging, the 50/50 blend of recycled content achieves a 54% carbon footprint reduction compared to the use of virgin materials.
The Eco Pack is reportedly the first major brand launch using a complete 100% recycled film from Coveris' Duralite R range.
In November 2020, Duralite R was awarded Flexible Plastic Pack of the Year in the UK Packaging Awards for achievements in carbon footprint reduction, innovation in recycled content and development of sustainable plastic packaging.