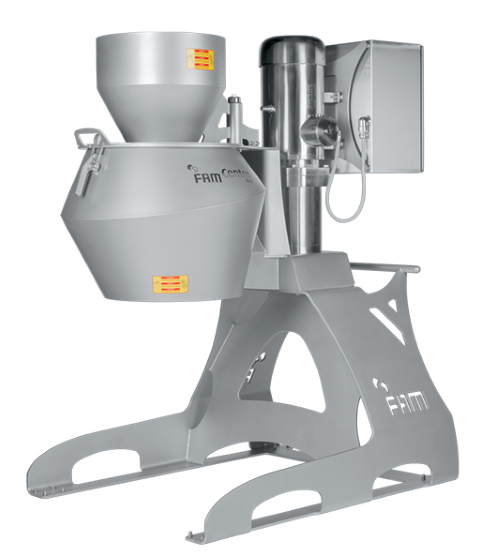 The new FAM Centris 400C series of centrifugal shredders was developed for smaller and mid-sized companies.
The FAM Centris 400C Optitec and FAM Centris 400C Hytec offer significantly increased shredding capacity with cut quality with the TurboTorque Technology.
The latter shredder has the highest level of hygiene available on the market, as is proven by the USDA Dairy Division Acceptance.
Both were designed for cheese processors looking to make optimal use of limited floor space.
All three shredders are powered by the new patent pending SureShred 16C cutting head, which has received USDA Dairy Division Acceptance.
The SureShred 16C features the Set & Forget technology, which can be preset so the shred size remains consistent.
No adjustments or measuring tools are needed, even after cleaning.
Regardless of the cheese texture and the shape of the shreds (V, oval or cresent), the SureShred 16C has proven to result in better cut quality.
It consists of 16 cutting stations, increasing capacity.
It is made of high quality, lightweight material for ease of use.
FAM has also developed a newly designed grating head that can be used with the new centrifugal shredders, which can cut a variety of shreds, increasing the cutting versatility and reducing the number of machines needed in the production line.
In addition, the company has expanded its partnership with Deville Technologies, a Canadian based company supplying solution-based manufacturing technology for the food industry.
Deville Technologies has a special focus on cheese, allowing customers to buy complete cheese cutting solutions with a simple and compact design: they increase capacity while needing a minimum of floor space.
All line components, such as conveyor belts, precubers, vibratory feeders and powder dispensers are easy to use and easy to clean.
It is FAM's exclusive North American distributor of cutting machines, while FAM is the exclusive European distributor of the full line cheese cutting solutions of Deville Technologies.