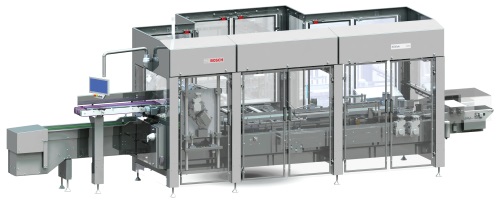 Bosch Packaging Technology will launch the Kliklok MEC at Pack Expo International 2018 in Chicago, US, from October 14 to 17.
The new Midrange Endload Cartoner (MEC) features a future-proof sanitary design, tool-less changeover and easy operator access.
It packs up to 170 cartons per minute and can handle carton sizes for products as small as ¾ inch thick single-serve pizza to a 4-inch-tall cake.
"One additional feature we added as standard is open flap detection to avoid opened or partially opened cartons exiting the machine – a quality requirement in our customers' minds," said product manager Janet Darnley.
The Kliklok MEC has open-channel stainless steel frame and angled surfaces, preventing the accumulation of products or debris.
The machine is IP65 washdown rated, which is easier to clean.
The electrical cabinets are mounted overhead for safety and assist unobstructed operator access.
It has full-length doors to allow walk-in access for maintenance and changeovers, which the latter are tool-less, easily repeatable, and can be completed by one operator in 10-12 minutes.
The new Bosch HMI 4.0 touchscreen guides operators through the process step-by-step.
Handling various of carton sizes
The Kliklok MEC features the patented rotary carton feeder, which erects cartons in the direction of product flow with a 30% greater carton-open time.
This allows the use of carton board with a higher recycling content, delivering end-users tangible savings in material costs.
The straight-pick motion reduces wear on suction cups and short, rigid bars minimize deflection.
The MEC can pack food at speeds up to 170 cartons per minute.
Kliklok endload cartoners are widely used in the frozen foods, refrigerated/prepared foods, bakery, snack, and confectionery industries.
They erect, load and close standard sleeve cartons, open-end five-crease sleeves, octagonal gusseted and open-corner cartons, gable-top and flip-top cartons, and other special shapes.