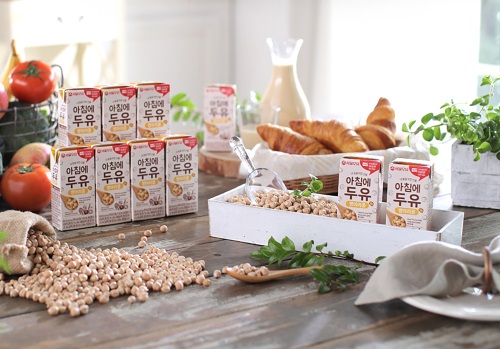 Seoul Dairy Cooperative is launching Achimae Soymilk (which means morning soymilk), a nutritionally-rich, morning soy milk drink with chickpea protein, designed to be served as a warm, on-the-go breakfast in South Korea.
This is the first product to appear on store shelves in SIG's Heat&Go packaging, a microwaveable aseptic carton pack.
Catering to Asians who prefer to drink hot drinks when it is cold outdoors, the packaging opens up a new channel for hot vending and using microwave ovens in the workplace.
The alternative is to first pour a packaged product into a microwaveable or heatable beaker or flask, but that requires pre-planning while being cumbersome and inconvenient especially on-the-go.
The morning chickpea drink, containing a blend of soy milk, fruit and vegetables, is currently sold online through home shopping channels and is now expanding into grocery and convenience stores.
It has already received considerable acclaim for its high nutritional content.
It delivers high protein content with chickpeas, soymilk, cabbage, tomato, broccoli, carrot, apple and banana, blended together in a convenient 200ml combiblocMini microwaveable pack.
The carton can be heated up to 60°C although most drinks taste best at around 50°C.
A fail-safe mechanism has been incorporated into the package, so that if the product was overheated in the microwave, excess pressure would be released with gradual opening of the top seal preventing sudden ruptures.
Beverages can be filled in Heat&Go carton packs on standard SIG filling machines with a simple upgrade so that the filler can run standard and aluminium-free material interchangeably.
The packaging solution brings new market opportunities for beverages such as milk, juices, teas, dairy substitutes and innovative functional products.
It also safeguards products and ensures their protection from light, oxygen, aroma and water, even when heated, delivering the product with the best taste.