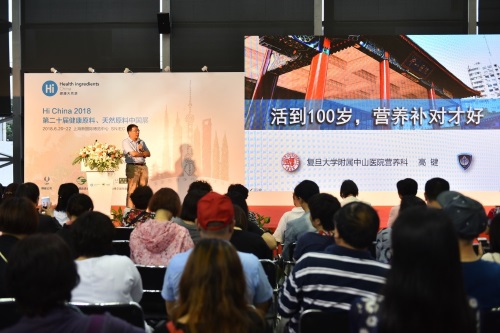 Fi Asia-China, jointly organized by UBM EMEA and Shanghai UBM Sinoexpo International Exhibition, closed in July 2018 in Shanghai, China.
Co-located for the first time with ProPak China, Expo Food Manufacturing and Starch Expo, the three shows hosted more than 1,000 exhibitors from nearly 20 countries and regions including China, Greece, Hong Kong, India, Italy, Japan, Malaysia, Mexico, Taiwan, Thailand, Turkey, the UK and the US.
The exhibitions welcomed 25,144 professional buyers, producers, and distributors from the industry as well.
Highlights of the show included:
– The 10th Food Safety and Food Additives Seminar which was jointly hosted by Shanghai Food Additive & Batching Association and Shanghai UBM Sinoexpo International Exhibition.
This seminar covered the latest developments of food ingredient industry under the Belt and Road Initiative and Regulation on the Implementation of Food Safety Law.
– The 2018 Dairy Product/Beverage Industry Development Seminar
– The Science and Technology of Food Industry Forum that shared application schemes for hot raw materials and ingredients in the food and beverage industry.
– The Overseas Marketing Innovation and Operational Risk Control event on reducing risks and increasing sales to visitors.
– The Raw Food Material and Contact Material Regulations Seminar
– The Echemi Global Food Industry Forum on solutions for Chinese raw material and ingredient enterprises.
Meanwhile, Hi China 2018 hosted 700 exhibitors over 30,000 sqm of space.
The show was co-located with Healthplex Expo 2018 Natural & Nutraceutical Products China 2018 (HNC 2018) and CPhI China 2018, which gathered more than 4,000 exhibitors under one roof, and attracted 84,593 visitors.
In 2019, the two shows will be held at the National Exhibition and Convention Center (NECC) in Shanghai, China, alongside HNC, Starch Expo, and ProPack The show China.