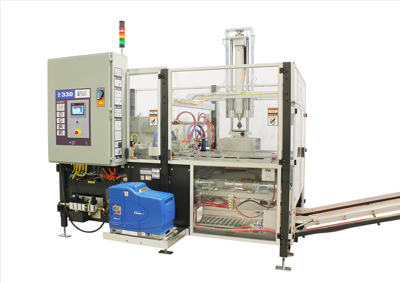 IPak, powered by Pro Mach, introduces its next generation automatic tray former for greenhouse produce, field-grown produce, baked goods and products packed in trays at Pack Expo, September 25-27 in Las Vegas, US.
The new IPak TF-330GH tray former features robust construction for years of continuous operation producing perfectly formed trays at up to 40 units-per-minute.
It has a compact footprint and efficient air and power consumption to reduce operating costs.
A sealed-for-life servo drive for the mandrel, nickel-plated chains, and convenient access to internal components also contribute to low cost of ownership.
The machine can form trays in small to large sizes, including all formats of Euro-style; multi-use box tray; and four-corner and four-corner with snap-lock lid.
The TF-330GH features quick-change color-coded components, and intuitive navigation of the human machine interface (HMI).
Graphic-based instructions and labels on the machine also help to increase operator comprehension.
It has a globally supported Allen-Bradley CompactLogix PLC, seven-inch touchscreen HMI, and other controls, as well as independently controlled and self-cleaning vacuum picking systems for optimal handling of blanks.
IPak selected one of Nordson's latest hotmelt glue systems for its fast changeover capabilities, accuracy, conservation of consumables, and operator safety functionality.
On high-volume lines, the TF-330GH can be integrated with the IPak TS-100 empty tray stacker to ensure that packing lines always have ample trays.
The TF-330GH operates on 240-volt three-phase electricity, eliminating the need for special power requirements.