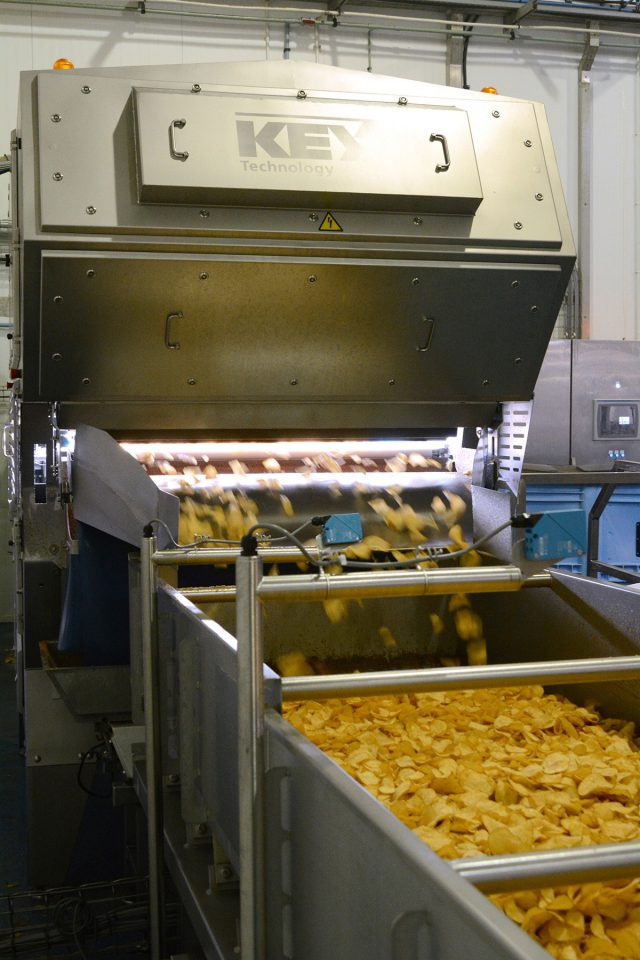 Ireland's Keogh's Crisps and UK's Burts Chips have found Key Technology's Optyx digital sorters useful in the production of batch-fried potato chips/crisps.
Identifying color and opacity, Optyx detects and removes defects such as oil-soaked soft spots, blisters, doubles and clumps as well as green spots, bruises, overcooked black spots and foreign material (FM).
Optyx 3000 and Optyx 6000 sorters can handle 1,000-2,000 kg of chips per hour.
"We measure this sorter's success on the quality of our final product and the improvement in our production costs," said Tom Keogh, MD of Keogh's Crisps.
"We're saving labor in QC [quality control] because Optyx allowed us to reposition six people over two shifts to elsewhere in the plant."
"For batch kettle chip producers like us, having chips stuck together as doubles is a serious problem, because they're not fully cooked," said John Joseph, operations director at Burts Chips.
"One soft center can turn a bag of chips rancid very quickly."
"Optyx removes FM and other defects too, but its ability to detect doubles is what made this sorter really stand out."
The two processors selected Optyx sorters featuring cameras and lasers in combination to maximize the detection and removal of the widest range of FM and defects. Alternatively, Optyx can be configured with top- and bottom-mounted cameras to successfully sort batch-fried chips.
For ease of operation, KeyWare Application Software is designed specifically for each application, categorizing defects and FM in terms common to batch-fried chips.
For processors that handle other products such as vegetable chips, Optyx can be equipped with multiple KeyWare application packs that enable product changeovers in seconds.
Optyx features Key's Information Analytics, a set of data acquisition and connectivity tools that allow users to gather a broad range of product and operational data from the sorter.
The data can be made available flexibly for off-line analysis or connected to a customer's supervisory control and data acquisition, SCADA, or Manufacturing Execution System.