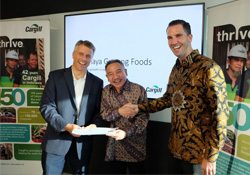 Cargill and So Good Food, a wholly-owned Indonesian subsidiary of leading agri-food company Japfa, have entered into a 60-40 joint venture to produce and supply fully-cooked poultry products in Indonesia.
The partnership will leverage Cargill's broad industry expertise to boost So Good Food's capabilities in consumer food processing technologies, product innovation and quality assurance.
Cargill and Japfa will also work together to produce a new range of value-added consumer food products.
Besides toll manufacturing for So Good Food, the joint venture company, Cahaya Gunung Foods (Shining Mountain Foods), will supply high quality products to quick service restaurants, hotels, restaurants, the food service sector, as well as convenience stores and petrol kiosks in Indonesia.
Cahaya Gunung Foods will initially operate out of So Good Food's existing value-added meat plant at Boyolali, Indonesia and take over the employment of the employees at the processing facility.
Both companies will look to invest and expand the operations together, focusing on new premium products.
Meanwhile, So Good Food will continue to operate its four meat processing plants in Indonesia, focused on producing downstream branded ready-to-eat consumer food products such as chicken nuggets, meat balls and shelf-stable sausages.