India's Ecozen Solutions has won the inaugural Rabobank Food Loss Challenge Asia, launched to highlight agri-tech solutions to the growing global problem of food loss and wastage from farm to market.
Rabobank invited submissions from regional agri-tech start-ups as an initiative to facilitate constructive dialogue across the agri-industry spectrum among solutions providers, food and agriculture corporates and small holder farmers
Food News International speaks to Albert Boogaard, Rabobank Foundation's head of innovation on the motivation and workings of the Challenge.
The Foundation is Rabobank's social fund that invests in the self-sufficiency of farmer organizations in Africa, Asia and Latin America, by putting up finance and by sharing the cooperative, banking and agricultural expertise that the Rabobank Group has built up over many years.
FNI: How did the Challenge come about? What are the goals for this Challenge?
Boogaard: From its roots as a farmer cooperative, to its establishment as a world leading financial services provider to food & agribusiness corporates, Rabobank has nurtured a strong interest in the food and agricultural industries.
Its strategy headline, 'Growing a Better World Together', is both a recognition of the fact that Rabobank has a role to play in ensuring the sustainability of our global food systems, and a statement of intent.
Against the backdrop of an increasing world population of over 10 billion in 2050 and a decline in natural resources, it is clear we need to produce much more efficiently.
Improving productivity is part of the solution, but reducing losses at both farmer level and in the value chain is just as important, seeing as food loss amounts to more than 30% of the total volume of food produced for consumption.
In addition, reducing food losses at the farm level is also key for smallholder farmers to improve their livelihoods.
Notwithstanding the ethical case for reducing food loss, Rabobank sees that its food and agri corporate clients also have a strong business case for doing so, with research suggesting that for every US$1 invested, they would save US$14 in operating costs.
Technology can play an important role in reducing food loss from farm to market.
To this end, Rabobank and Rabobank Foundation have teamed up to launch the Food Loss Challenge Asia.
This Challenge is a means to scout and support promising tech startups/scale ups by helping them get access to markets and funding through our networks, and to showcase the solutions to our corporate clients.
The composition of our Judging Panel is a strong testament to our clients' interest in the startups and scaleups' solutions.
The panel consists of Singapore's global investment company Temasek, Archer Daniels Midland, Charoen Pokphand Group, Olam International, and UPL.
FNI: Why does Asia have the problem of food wastage and loss?
Boogaard: Food wastage and loss is not Asia-specific: it is a global problem, which occurs across multiple levels.
The two levels we focused on for the Food Loss Challenge Asia are: in the value chain between farmer and consumer (because of poor storage or cooling solutions, inefficient transport, etc.), and also at farm level due to pests, diseases, unpredictable weather, lack of insights in what consumers need or when they need the product or lack of storage facilities.
FNI: How does this Challenge benefit F&B industry?
Boogaard: Food manufacturers and producers can benefit from lower losses at farm level but also from better connections with the final offtakers.
Knowing the required time and quality helps farmers to produce what the market needs and this results in a higher price.
In the case of Ecozen (the winner of Food Loss Challenge Asia, see interview coverage The Winning Idea below) a cooled product stays fresh for a longer period but also allows a product to be transported over longer distances.
This helps producers to reach better markets and achieve higher prices.
Meanwhile, retailers can get better quality products that are fresher because of data driven insights in the supply chain and cooled products (Ecozen).
Better coordination in the supply chain helps them to get the right quality at the right moment.
This is also true for manufacturers that procure from farmers and process the goods further.
FNI: How can the technologies and learnings from the agricultural sector be transferable to the F&B manufacturers? 
Boogaard: We believe that two major changes are essential in order to effectively reduce food losses: the first one would be a mindset shift of the whole industry, encouraging stakeholders to consider the food value chain holistically, rather than in isolated fragments.
Increasingly, downstream chocolate bar producers are being held accountable for how the smallholders who grow the cocoa are being treated, or for their farming practices.
Therefore, to ensure lasting impact, actors all along the value chain, including F&B manufacturers, should be thinking about these issues together!
The second shift would be to set up the technological infrastructure that would enable relevant data to flow seamlessly all along the supply chain, from the farm gate to the consumer's plate.
FNI: Would Rabobank be creating a similar Challenge for F&B manufacturers?
Boogaard: We have not decided yet on whether we would be organizing another Challenge.
FNI: In your view, how can the global problem of food loss and wastage be mitigated?
Boogaard: Technology can make a big difference here and many stakeholders in the chain have an intrinsic motivation to reduce food losses.
Better coordination within the value chain is one (matching demand and supply), another is data platforms that advise farmers on real-time weather and pest and disease management.
It improves producing practices so less produce get lost in the field.
It also helps farmers to harvest at the right moment.
Then there is a category of smart Internet of Things devices that for instance can measure quality along the chain and store the data in a platform.
It results in immediate action to avoid losses.
Ecozen provides a combination of a market platform with physical assets that farmers use to cool their perishables.
So it coordinates and also improves quality and provides farmers who do well with a data track record that helps them to grow their business.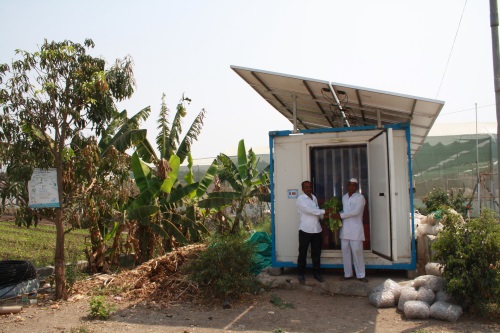 The Winning Idea
Winner of the Rabobank Food Loss Challenge Asia, Ecozen Solutions, walked away with both the Jury's Prize of US$15,000 and the Audience's Prize of US$5,000.
Its winning entry enables the farm-to-fork movement of perishables by providing solar based cold rooms at the farm level.
Ecozen has implemented its solutions in ASEAN including Indonesia and Vietnam with the help of Covestro and is looking to expand further into other developing countries including African and Southeast Asian markets.
Food News International finds out more from co-founder and COO Prateek Singhal.
FNI: How did your winning idea come about?
Singhal: The initial idea was to enable energy access and efficiency.
When my two friends and I were students at IIT Kharagpur, India, we met farmers who had land and bore filled with water but were not able to operate the pump due to lack of reliable power.
They were highly dependent on rain-fed agriculture.
We developed an irrigation controller Ecotron and used solar energy to power their pumps.
The farmers then started taking multiple harvests.
Their production increased but their price realization did not increase proportionally.
In fact, their price per kg went down.
This made us think seriously about the need for post-harvest management at the first mile.
We innovated on the control technology we had developed for pumps and improved it to run a refrigeration system effectively.
We combined it with thermal energy storage for backup purpose and built the world's first portable solar-powered cold room, Ecofrost.
Ecofrost was built to fundamentally allow for farm level pre-cooling and help buy time for farmers to aggregate the produce while they found the right buyers for their produce.
However, we also learnt that there is a great challenge of information asymmetry in the supply chain.
Hence, we started helping farmers to connect to buyers in farther markets and that is how the Eco-connect platform really came about.
We are now present on more than 15,000 farms.
We have seen a complete transformation of a barren land turning lush green and we have seen farmers earning Rs.200/Kg (US$2.87/kg) for their produce worth Rs.25/Kg by selling to the right market at the right time.
FNI: How could this idea be adapted and used by F&B manufacturers?
Singhal: A solution like ours helps F&B manufacturers to identify and procure quality produce directly from the farms.
Being cold chain-enabled, we can offer the option of long distance sourcing of perishables while ensuring quality and economical pricing.
Furthermore, a strong and robust cold chain enables distribution to the last mile.
We can also support them in creating decentralized cooling infrastructure in areas where energy access is a challenge.
F&B manufacturers can become a part of our commodity platform where they can get the details of the cold chain-enabled farmers to source the commodities from them.
They can also lease our equipment.
Furthermore, they can buy the units and set them up on their collection centers to pre-cool the produce, aggregate it and then pick them up using logistics.
FNI: What have your team learned through the process of the Food Loss Challenge Asia?
Singhal: We learnt that there are a lot of start-ups that are working in this space, but a collaborative approach is missing.
The solutions and technology being created are complementing but a collaborative mindset can create a value much larger than the sum of parts.
Interacting with leaders of large agri-commodity companies made us understand how a collaboration can help companies like ours to gain knowledge and scale up operations across geographies.
FNI: What do you plan to do with the prize and status as the winner of the Challenge?
Singhal: The prize will help us to further strengthen our research and product development and enable the movement of farm-to-fork by our offerings, which would lead to a significant reduction in food loss.
The status also gives us an opportunity to connect and collaborate with organized aggregators and supply chain companies looking to source quality perishables.
We want to invite interest from the supply chain players to share with us their requirements on the sourcing and the cold chain side.
A win at the Food Loss Challenge Asia is a validation of our efforts and product offering.
Food Loss is a key issue in all developing countries and we are striving to build solutions to prevent this.
This win will help us to reach out and collaborate with like-minded businesses and organizations working towards tackling food loss.
Furthermore, it can also provide access to capital which would fast track our product development and business expansion plans.