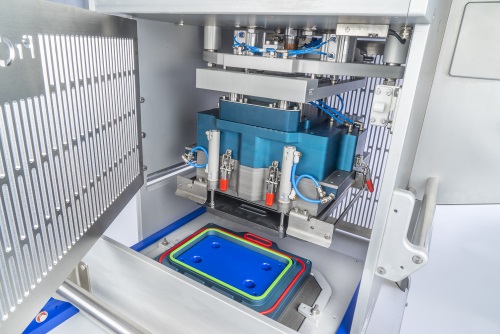 Proseal has launched its first tray sealer since winning a Queen's Award for International Trade 2018.
The Proseal TTe is a small and compact tray sealer for low-volume production and production trials.
It is designed to assist the progression of safe food packaging and shelf life extension to underdeveloped countries where packaging is overused and underutilised.
A semi-automatic, draw type, tray sealing machine with full vacuum facility, the machine can seal up to 10 vacuum/gas packs per minute with a two-impression tool.
It is the latest addition to Proseal's innovative 'e' technology range, which is characterised by its flexibility to perform any style of heat seal to a pre-formed tray such as atmospheric, modified atmosphere packaging (MAP), VMAP, Skin, Skin Plus or Skin Deep.
The machine has a five-minute tool changeover, a simple and accurate film-feed system with an easy film route, and a maintenance-friendly robust construction.
Its 'Auto-Tool' feature automatically locates and connects the tooling to machine functions, including all MAP functions at a touch of a button.
The TTe tray sealer also offers exact temperature and seal pressure control, and a high-accuracy tool alignment system that provides an extremely consistent sealing or film-cutting relationship with the tray flange profile.
It also has a food industry-approved hygienic construction and wash-down protection, as well as full Category 3 guarding.