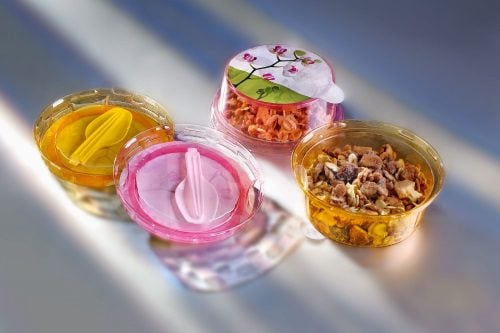 RPC Superfos creates spoon-in-the-lid on its 75 mm container for yogurt, dessert and other dairy products.
The new solution gives on-the-go consumers a foldable polypropylene spoon that is simple to access, assemble and use.
The amorphous polyethylene terephthalate, APET, lid features a fine PET seal that is easy to tear off, replacing the commonly used aluminum foil.
Due to the intuitive nature of the seal, there is no need for instructions, meaning it can be fully exploited for branding messages with a choice of six colors.
The lid can be specified in any transparent color, giving customers a wide range of design possibilities where the pot, lid and seal complement each other to create an attractive presence for maximum on-shelf impact.
Besides looking attractive, the lid height of the container has been kept minimal for logistical benefits and reducing the amount of virgin material needed.
The pot stacks well both filled and empty, and is also available with a diameter of 95 mm.
It is also ideal for packaging muesli, which ensures a high level of hygiene, with the spoon kept separate from the topping.