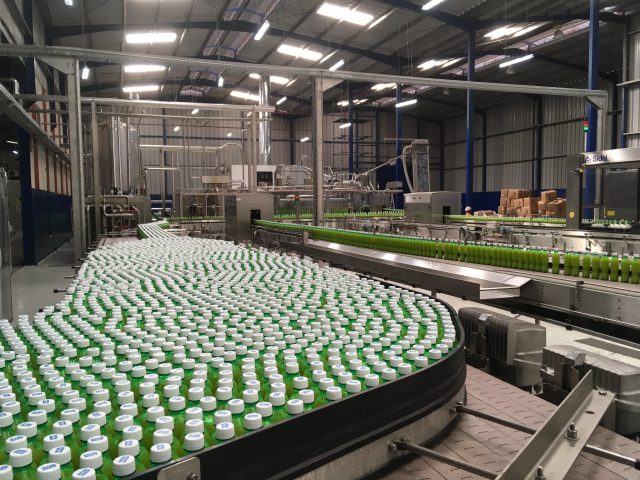 Twellium has invested in two complete lines from Sidel in the West African sub-region.
"Flexibility is imperative for the company because of the variety of drinks we produce – from carbonated soft drinks to juice drinks with preservatives and the non-alcoholic malt drinks that are popular in the region," said Hassan Kesserwani and Hussein Kesserwani, chairmen of Twellium Industrial Company.
"In Ghana, our recent investment in a Sidel Matrix PET complete line has fulfilled these needs by offering faster changeovers and the ability to handle many different bottle formats."
The Sidel Matrix blower consumes less compressed air and electrical power, resulting in energy savings of up to 45%.
The Eco Oven technology – patented by Sidel – can be used to upgrade existing blowers and cut energy costs because it uses fewer lamps for heating the preforms.
This reduction in energy consumption was particularly welcome because Ghana has faced considerable rises in energy costs.
In addition, Twellium adopted Sidel's StarLite base design that reduces the weight of the bottle by 20% for 0.5 L bottles, while improving stability and protecting against stress damage during production and transport.
"With the StarLite base, the company saves on raw materials and also on energy as the container can be blown using less air pressure," says Dominique Martin, Sidel Africa & Maghreb sales director.
With five production lines, Twellium brings beverages such as still water, carbonated soft drinks and sensitive products to the African region.
It combines its pure and natural mineral water with European technology and international standards in the manufacturing process, as well as meeting all the certification and safety standards of the Food and Drugs Authority in Ghana.
The company produces beverages such as Verna Natural Mineral Water, Rasta Choco Malt, Dr. Malt and the Easy range of products.
Other products such as Rush Energy Drink, American Cola, Planet and Bubble Up are all produced by Twellium as a franchise of Monarch Beverage Company, a global company headquartered in Atlanta, US.