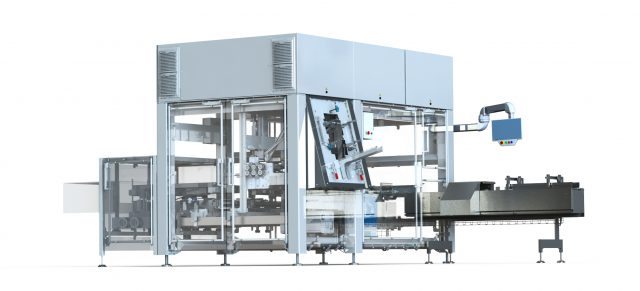 Bosch Packaging Technology and its recently acquired Kliklok Corporation will introduce the Kliklok ITC packaging solution at interpack 2017 from May 4 to 10 in Düsseldorf, Germany.
The integrated topload carton forming, loading and closing solution complements Bosch's current packaging portfolio, and enables it to offer its food customers complete system solutions for primary, secondary and tertiary packaging.
The new development boasts one of the highest speeds available for a solution with such a small footprint, and has a large carton size range.
Integrated for modernized operation
Targeting producers of confectionery, cereal bars, bakery products, biscuits and cookies, the ITC's principal function is to form topload style cartons or trays and automatically load wrapped products into them, before closing if required.
Comprised of a single fully integrated solution with three functions – carton forming, loading and closing – the machine helps to reduce customer footprint with an ergonomic design, avoiding the need to source three separate pieces of equipment, to interlink and integrate them.
One operator and one human machine interface (HMI) are needed to operate the machine, thereby improving productivity rates.
Forming various carton styles
The ITC offers food customers the flexibility to change formats and run a variety of carton styles, and is designed for flow wraps, roll wraps, compartment trays or multi-packs.
Cartons are fed using a reciprocating carton feeder, and are formed using a motion profiled vertical plunger.
Either lock or glue cartons can be formed on the ITC, and four possible carton styles can be incorporated within a single or twin infeed model: three-flap carton with full flaps, three-flap carton with economy flaps, a single-flap carton or a tray.
Once the carton is formed, an intelligent transport system is used to carry it independently through the machine loading and closing module.
This system provides flexible and variable configurable control of the carton to suit both loading and closing requirements, and is also comprised of minimal parts, reducing maintenance and increasing overall equipment effectiveness.
Robotic hand for high speeds
The next step is the automatic loading of products, integrated into the machine using Bosch's Delta robot, which looks like an inverted three-legged tripod.
The three segments or 'arms' move independently of one another but share the 'robot hand'.
This is moved by either extending or retracting one of the segments and enables Delta robots to reach every point within their range at the same speed at high accuracy.
In contrast to conventional robots, Delta robots do not need to struggle against gravitational and inertial forces and are therefore capable of extremely high speeds.
The robot can track the carton transport system and load products 'on the move' – an advantage over two-axis robots that can only load stationary cartons.
Closing section for appealing products
For the carton closing operation, a simplified lugless design eliminates carton carrying lugs, driven chains, mechanical transfers and timing flaps.
Instead, the closing section uses easily replaceable high-friction belts to quietly convey cartons out of the machine, effectively reducing any carton marking and product damage.
Next generation HMI
Developed with the new HMI 4.0 touch screen, the next generation of intelligent HMIs, the ITC offers users an enhanced experience, guiding the operator through each step of the production process.
With a clearly structured menu, operators are immediately aware of the machine status. With trouble-shooting support, the HMI significantly reduces the risk of unscheduled downtime and allows employees to minimize planned maintenance time.