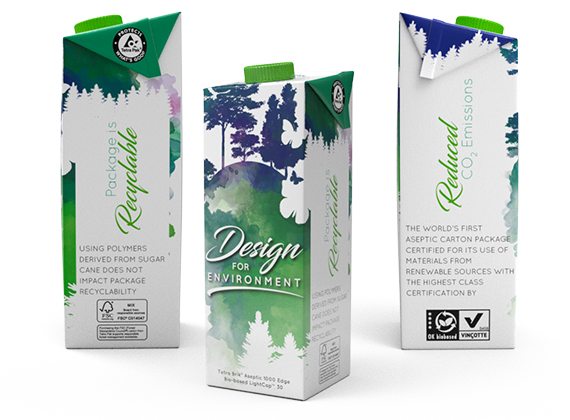 Tetra Pak's new version of Tetra Brik Aseptic 1000 Edge with Bio-based LightCap 30 is reportedly the first aseptic carton package in the world to receive the highest class of Vinçotte certification for its use of renewable materials. 
The package is manufactured using a bio-based plastic film and cap, made from polymers derived from sugar cane.
Combined with the paperboard, this lifts the share of materials from renewable sources in the package to above 80%, the threshold for four-star certification from Vinçotte, the Belgium-based accreditation agency that assesses the renewable content of packaging products.
The new package also boasts up to 17% lower carbon footprint than a standard package, according to an independent lifecycle analysis conducted by IVL Swedish Environmental Research Institute.
"Increasing the use of renewable materials, defined as natural resources that can be replenished over time, plays an increasingly important role in mitigating resource scarcity and climate change," said Philippe Dewolfs, president of the Certification Committee from Vinçotte.
"This is the only aseptic carton package we have certified so far and it has qualified for four-star certification."