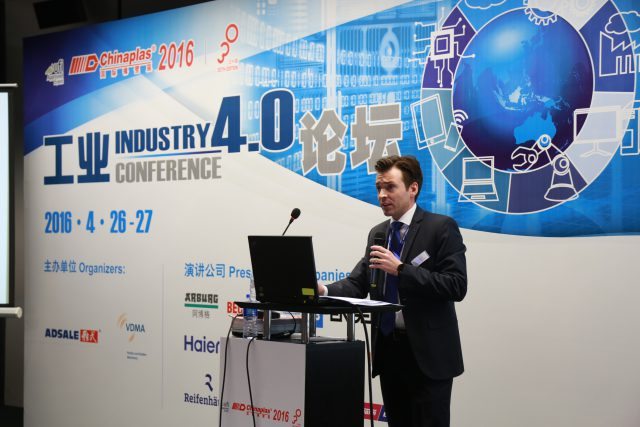 Chinaplas 2017 will open its doors in Guangzhou, China from May 16-19, 2017 with more than 3,300 exhibitors introducing solutions for the plastics and rubber industries.
Focusing on the theme Intelligent Manufacturing, High-tech Materials, Green Solutions, show organizer Adsale Exhibition Services will hold three events at show – Industry 4.0 Conference, Design x Innovation and Medical Plastics Conference.
These events will provide technologies and inspiring case studies for attendees to understand market dynamics from multiple dimensions, explore opportunities for collaborations and expand networks to facilitate development.
China has quickly become the world's second largest national economy, and labor costs have risen sharply.
It is no longer a low-wage cost country – all kinds of cost pressures force businesses to opt for more automation equipment and advanced technology in the production processes.
As China is still a developing country, it has not yet fulfilled the necessary conditions for industrial 4.0, says chairman of Adsale Exhibition Services Stanley Chu.
"Only a few companies are making use of networking production technologies," he says.
"Industry 4.0 is still a vision for many Chinese companies, but an attainable one, and attainable in the foreseeable future, if it is desired that something be done to cope with cost pressures."
The 2nd Industry 4.0 Conference, presented with the support from VDMA, will provide practical and operational solutions for enterprises targeting urgent manufacturing upgrade.
Industry 4.0 will eventually move towards the direction of customized, small batch production, which are also the characteristics of additive manufacturing (three dimensional printing) technology for developing more personalized products.
Presenters include representatives from Arburg, KraussMaffei, Engel, Wittmann Battenfeld, Beckhoff, Volkswagen AG, Haier and SAP.
Meanwhile, Design x Innovation will offer programs such as Innovation Gallery, Open Forum and Meet the Designers for visitors to be inspired on the application of new materials.
The 3rd Medical Plastics Conference will bring together industry players to discuss the latest applications of medical plastics and production technology.