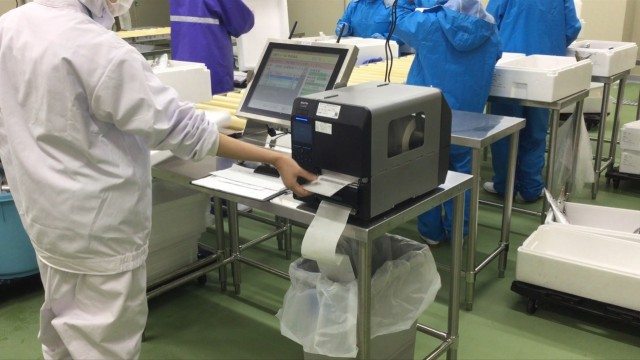 SATO says CSN Chihou Sousei Network (CSN) utilized its barcode label printing solution featuring CL4NX-J Internet of Things industrial printers for a fresh seafood sorting facility at Tokyo's Haneda Airport.
The system drives Tokyo Haneda Market, an e-commerce website that provides ultra-fast fish delivery.
The 720 sqm seafood sorting facility located inside the cargo terminal at Haneda Airport was launched on September 29, 2015.
Sorting operations involve an input of barcode label information such as variety and weight of the fish via a voice command system for hands-free operation.
Barcode labels are then printed to ship the fresh seafood to restaurants in Tokyo and buyers across Asia through an online store.
The system allows fresh fish caught that day to be shipped, bypassing wholesale markets to reach the end user in 12 hours.
Traceability is possible as labels can match data for CSN's network of fisheries workers around Japan and production region, shipper, fish variety, weight and received date.
The industry fastest NX series printers have as a standard feature the Internet of Things maintenance service SATO Online Service.
The cloud-based service provides 24-7 real-time remote monitoring of printer operating status, which lends support whenever an issue is detected.