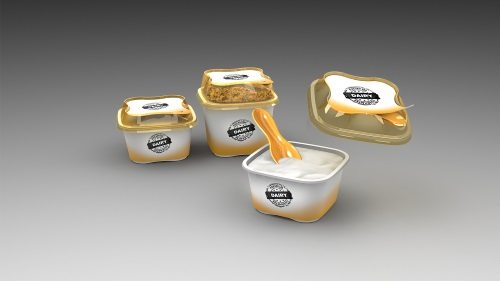 RPC Superfos has introduced a pack with a spoon for dairy products on-the-go.
The new pack comes with a spoon integrated into the lid of a square pot, which is accessible by tearing off a self-adhesive peel-off label on top of the plastic pot.
"The spoon is ready to grab without any need for opening a smaller plastic bag. The key word is simplicity – there is all you need, but no more than that," says Søren Marcussen, executive VP CSO.
The company says the solution features attractive smooth lines and gives a soft impression – quite similar to the texture of any dairy content.
The design is available in two versions: one with the spoon in the lid and one with a higher lid, with room for both a crunchy topping and the spoon.
There are two sizes – a brimful of 210 ml or 300 ml.
Apart from outstanding convenience and functionality, the pot is reclosable, stable and optimised for stacking, filled or empty.
With in-mold labeling, brand identity is maximised on-shelf with colours, pictures, decorations and trademarks rendered in premium image quality.
"The new easy snacking pack has already attracted a good deal of attention and one of our customers is currently planning a dairy product launch later this year in the pot with the in-lid spoon. We trust consumers will receive both content and pack very well," says Marcussen.