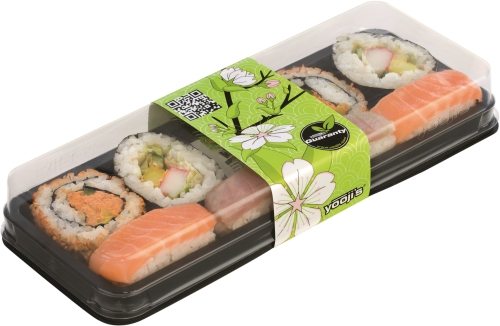 Banding technology is becoming increasingly widespread in the food sector, as the band can be printed in high quality with up to eight colors, and is a simple way to lend the product a characteristic identity, according to ATS-Tanner Group.
System provider of end-of-line packaging machine solutions says marketing can be visible at the point of sale while adhering easily to design specifications.
Many manufacturers work with pre-printed bands that bear image messages, which are added online to the pre-printed form during the packaging process.
For this, ATS uses banding machines with integrated thermal transfer printers.
This enables manufactures to provide information on food additives, content, nutritional value tables, weight, sell-by date and other variable details just-in-time, thereby achieving flexibility in scheduling.
Such machines can handle barcodes and the the rear side of the band can be used as advertising area or recipe tips as an ATS customer had done.
Applications
The bands can be used on pineapples, bread and bakery items, meat products, cheese, leek, sushi, sausages, food in plastic cases, rösti, fondue, tortellini, as well as products in flat bags.
ATS says the ultrasonic cold-welding of the band is gentle on the packaged goods and does not provide heat during the packaging process.
The bands are available in paper, polypropylene, polyethylene and bioplastic and the tear-resistance is fully adjustable in the ATS equipment, especially when packaging spring onions or sausages.
The range of applications extends from the single-unit banding machine to the integration of digitally controlled, fully automatic machines in existing production lines.