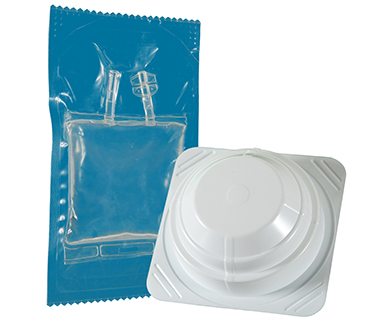 Ossid, powered by Pro Mach, introduces the 8000S, a thermo form-fill-seal machine for medium to high production environments.
This horizontally oriented machine can produce package types including flexible, foil-foil, semi-rigid, rigid, ambient, vacuum, modified atmosphere, and reclosable.
Delivering up to 20 cycles per minute, the 8000S can accommodate three and six-inch cores for the dual supply mandrels.
While the drive chain and forming and sealing presses feature servo control for precise, repeatable motion actuation, the 8000S has maximum web width of 20 inches and index length of 18, which contributes to its medium to high production rating.
The dual unwind stand comes standard with automatic edge guide for the bottom web, which ensures smooth operation and low operator involvement.
The control system is based on the Allen-Bradley programmable logic controllers.
The human machine interface has features designed to make changeover fast and accurate, provide management with relevant production information, and ensure that maintenance personnel have the information they need for trouble shooting and ongoing support.
Ossid also provides customers with change parts kits that lower inventory costs and ensure highest uptime.
The stainless steel construction of the unit provides for durability in harsh environments.