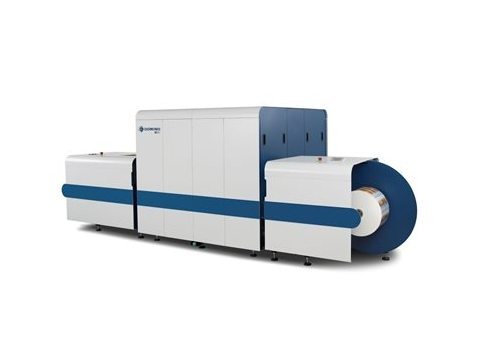 Domino continues to enhance the latest addition to its N-Series range – the N610i digital color ink jet label press – through a number of significant developments.
Launched at Labelexpo 2013, the N610i combines the productivity of flexo with the flexibility of digital ink jet technology.
The company has fine-tuned the product to handle 1m diameter reels, resulting to up to 15% increased uptime compared to 560 mm diameter rolls.
The recent introduction of a chilled roller option that enables the range of media to be handled by the press has now been extended to include thermally sensitive substrates.
The capability to integrate the N610i with finishing lines such as those from AB Graphic and GM, enables 'end-to-end' label production and several systems are running in live production environments today.
Features
N610i has an opaque digital white ink, which is formulated by Domino and it delivers a smooth silkscreen-like finish.
It provides the highest opacity white when printing at 50 m per minute.
Operating at speeds of up to 75 m per minute with a 600dpi native resolution, the N610i offers double the print speed of most high resolution digital systems.
The N610i incorporates a range of Domino's i-Tech intelligent Technology smart features such as CleanCap, Domino's automated print head cleaning and capping station that maintains high uptime operation and print quality.
In addition, its ActiFlow ink circulation system ensures precise ink temperature control and degasses the ink, which maintains nozzle performance for improved print quality and reliability.
Precision alignment is optimized with the use of the proprietary Domino enhanced Kyocera high resolution jetting assemblies, which incorporate head stitching technology for seamless overlapping.
It is further enhanced with the use of Domino's StitchLink micro-motor controller technology, which enables precise head alignment.
This reduces set up time, eliminates stitch lines and delivers seamless images across the 333 mm print width.
The N610i color press has a choice of color options and print widths for users to select the most appropriate solution for their requirements.
It is driven by an Esko digital front end for integration into existing customer workflows, and is available in reel-to-reel as well as reel-to-finishing line configurations.