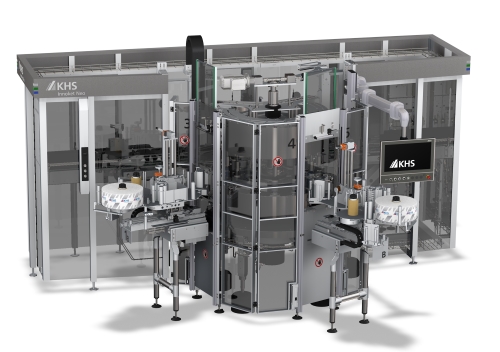 KHS is offering the Innoket Neo labeling series for cans to manufacturers of small batches and producers with a high brand variety.
"We've expanded our existing portfolio to include can labeling to give the customer more design options and enable these designs to be implemented faster with smaller warehouse capacities," says labeling product manager Cornelius Adolf.
This is because minimum order quantities and long delivery times for empty cans limit flexibility.
It is now possible to order unprinted cans within a much shorter period and to label them using the KHS Innoket Neo, thus simplifying logistics processes.
The Innoket Neo can be used to apply self-adhesive film or paper labels.
Here, the container can be either partly or fully wrapped with a label – including optical alignment.
With this system the design or logo can be changed within a few hours and the cans dressed with suitable motifs.
The space-saving machine has its 14 can plates driven by servomotors with high machine availability up to 35,000 full or empty cans in all standard sizes can be labeled per hour.
The machine can be positioned upstream or downstream of the filler.
Format changeovers are quick and do not require any additional tools.
The labeler also has a high level of energy efficiency, with a power consumption of just five kilowatts per hour.
Currently, Scotish brewery BrewDog is using the new labeling technology in combination with the KHS can filler.