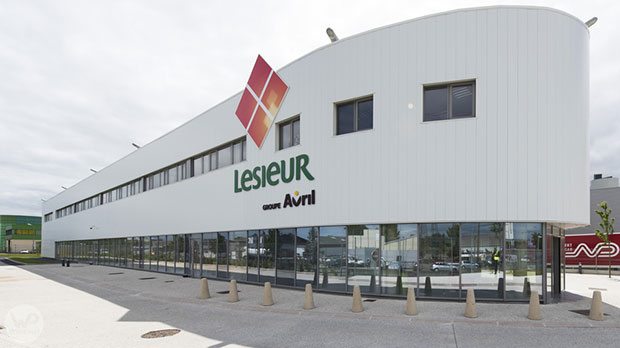 Avril opens an agro-industrial center in south-western France that integrates all its activities from raw grain to bottled oil.
Worth €31 million (US$33.64 million), this investment to both Avril and its subsidiary Lesieur, and means that since 2006, more than €150 million have been invested in this site.
The new Lesieur factory consolidates Avril's first sectoral site, thereby integrating agriculture upstream with industry downstream.
The Group has thus brought together on the same site the activities of its subsidiary Saipol – which has been based in Bassens since 1983 – and its subsidiary Lesieur – which until the summer of 2015 was based in Bacalan, Bordeaux.
This agro-industrial cluster integrating the entire chain from raw grain to bottled oil brings together all Avril's activities in the field of plant production – from the crushing of rapeseed and sunflower grain to the production of food and feed products in bulk (oilseed meals, vegetable oils) or packaged (Lesieur vegetable oils), and including renewable energies (Diester biodiesel) and renewable chemistry (vegetable glycerin).
Until now, Avril's site in Bassens benefited from a crushing capacity of 800,000 tons of grain and production capacities of 250,000 tons of Diester biodiesel and 25,000 tons of raw vegetable glycerin per year.
The new factory has a production capacity of 100 million liters of packaged oils per year (Frial, Fruit d'Or, Lesieur Cœur de Tournesol and ISIO 4).
The industrial facilities also enable the bottling and packaging in different formats of between 1800 and 20,000 bottles per hour.
The refined oils necessary for the preparation of finished products are supplied directly from Saipol's refining facilities, which are now on site.
Avril's new agro-industrial cluster for south-western France counts 200 employees, including 94 people in the new Lesieur factory.
"It is nearly a century that Lesieur had not built a new factory for the bottling and packaging of its vegetable oils", commented Jean-Philippe PUIG, CEO.
Employing youths
The inauguration of the new factory has also provided Avril with an opportunity to commit to the professional integration of young people and vulnerable members of society.
A partnership agreement with the Ministry for Agriculture, the Food Industry and Forestry and the Ministry for Towns, Youth and Sport was signed in the context of the 'Enterprise and Neighborhoods' Charter.
This concerns access to training and employment for young people distanced from the employment market who come from urban areas and rural communities that are home to most of Avril's activities.
The agreement highlights that:
– An increase between 2013 and 2018 in the number of people in alternance training hosted by Avril. – The Group hosted 71 such trainees in 2013 (professional training contracts and apprentices) and 153 in 2014.
The goal for 2018 is that 400 young people will be involved in such training programs.
– Specific actions to target young people from rural areas, modeled on the Sanders Sales School – the first school-enterprise partnership launched in 2010 – which favors the access of young people to training as livestock advisers.
– Avril's commitment to employ at least 6% of disabled people (or the legal threshold) in all the Group's companies, both in France and other countries, by 2018.
– The pursuit and extension of the Group's partnership with occupational integration associations such as Job dans la ville and Nos quartiers ont des talents.
– Participation of the Group in sessions to provide support in compiling resumes and preparing job interviews.
– Hosting attachments to enable high school students (at the end of their college education in France) from disadvantaged backgrounds to discover the world of work.