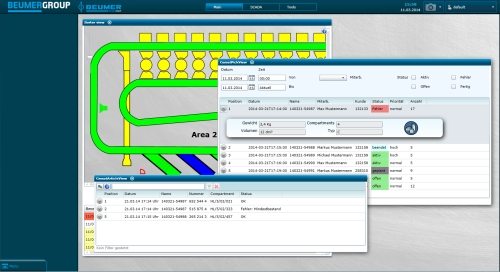 Beumer Group has launched BG, a software suite for high-level computer systems.
The suite's modular structure allows users to adapt it to their machinery and equipment and add modules for optimized material flows.
The Beckum-based intralogistics specialist also provides the BG Fusion interface, which displays process data, reports and machinery statistics for all parts of the program.
Users can call up data on their monitor without having to switch between applications.
The company says its system is scalable, meaning it can run on desktop personal computers band mobile devices such as tablets.
While the left area of the interface displays information in a compact form for users, the main area is reserved for data relevant to the particular application.
There are three desktops for users to store their settings so that they can go right to work with the same data when they log in again.
The user interface can also be switched between languages.
The web-based interface runs on all current Windows operating systems.
Users can export all data displayed on the screen to portable document format or comma separated value files.
A screenshot function is also included.
In addition, the Beumer Group Warehouse Control System (BG WCS) module allows the BG software suite to link up with the customer's warehouse management system or enterprise resource planning system via a network connection, enabling communication between control levels.