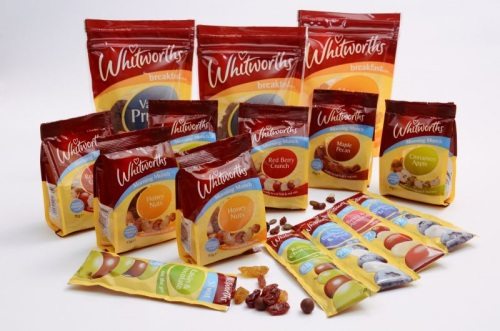 FFP Packaging Solutions have supplied flexible packaging for Whitworths' latest product launch.
Whitworths' Breakfast range consists of 30 new products included 13 film designs that FFP produced using its award-winning Platinum Print flexographic workflow, an approach that guarantees color accuracy and 'right first time' on-press performance.
Whitworths and FFP are long term packaging partners, with a shared history that encompasses more than 40 years and thousands of designs.
Whitworths' breakfast proposition consists of unique dried fruit, nut and seed products targeting two usage occasions: breakfast alternatives and breakfast additions.
The five sub-ranges include: Morning Munch, Shots, Sprinkles, Toppers and Flavours, which are currently available in Tesco, Asda, Morrisons and Waitrose stores.
As part of this project FFP produced six triple laminate stabilo packs, four 'skinny pillow' packs and three doy packs.
FFP worked closely with repro supplier Itarus to ensure that the color separations accurately preserved the Whitworths brand identity.
It said it was a particular challenge, given that the pack material, number of layers in the laminate structure, and associated design colors change throughout the product range.
Additionally, the packaging was being produced to meet a tight launch window.
FFP have invested heavily in a color managed workflow, working alongside repro suppliers and other key suppliers to develop a verifiable, measurable approach to color reproduction.
At the heart of the approach is a detailed understanding of how each combination of ink and film substrate will behave on press so that the repro path can be managed accordingly.
As a result, Whitworths received packaging that was 'right first time', across this important range, allowing them to meet their production schedule perfectly and hit their launch date, said FFP.