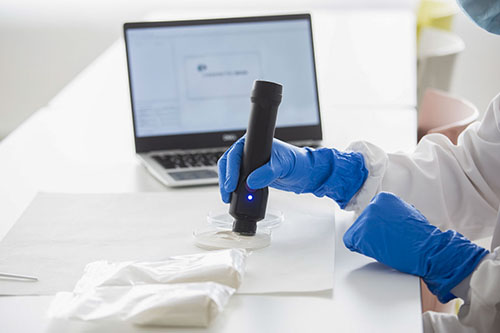 Chemometric Brain, a digitized quality control and Testing-as-a-Service software based on a Near Infrared technology (NIR) that guarantees the traceability, suitability and homogeneity of ingredients and final food products will partner with 1-2-Taste, a digital ingredients and services marketplace.
Through the partnership, Chemometric Brain will be introducing its services to ingredients and food producers, allowing 1-2-Taste's customers to assure that any food ingredients and final food products are fulfilling the exact specifications as required.
With its marketplace platform, 1-2-Taste is bringing food ingredients and services to food producers that wish to develop innovative products for customers that have increasing demands, when it comes to quality, traceability, sustainability and health benefits.
Geoff Carss, Chief Development Officer at Chemometric Brain tells Food News International more on the partnership, applications for the industry and opportunities the Covid-19 pandemic have brought for the food sector.
FNI: What are some anecdotal examples of Chemometric Brain application in the food industry today?
Carss: We have seen Chemometric Brain being used in a wide variety of ways over the past year such as to determine the origin or extra virgin olive oil, identify premium batches of fish powder, ensure the final blend of baby milk is both homogenous and the right composition.
Customers are using it to replace quantitative methods already in use, such as partial least squares or PLS, as they can consolidate all the results from a variety of NIR machines in different locations so they can standardize analysis and results.
FNI: What reported benefits have the software brought to users?
Carss: Customers are reporting a number of expected benefits such as reducing the cost of external and internal quality control (QC) testing and improved use of working capital as raw materials can be used immediately (as they can easily test the product in goods in) and finished products can be shipped more quickly.
They have also identified a number of processing issues such as blends not being homogeneous and ingredients which were missing.
Many found they could better understand the raw materials they receive and the consistency, or otherwise, of suppliers.
The fact that you can digitally define the products you want to purchase is enabling food companies to consider new potential suppliers.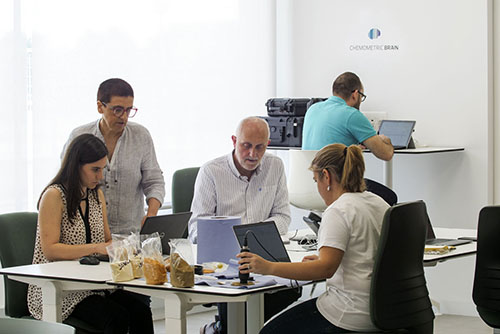 FNI: What are the learning points on using the software for first-time users? What adjustments to current processes/training do users need to use the software well?
Carss: For users in a production facility there is very little training.
They need to scan a sample, often on the production line or in goods in, upload the scan and the software gives them a simple Tick or Cross – whether this batch is good or not.
It takes a few seconds.
The biggest difference is the increasing use of hand held NIR scanners which moves testing from the QC lab to the most appropriate point of testing.
QC managers receive more training so they understand any issues arising from rejected batches and how to analyze the results using other modules in Chemometric Brain such as the artificial intelligence/machine learning module to determine to exact composition of a final product.
For very advanced users there is both online and classroom training available.
FNI: Which sectors in Europe's food industry would you see a wider use of the software?
Carss: The sectors which we expect to have a rapid adoption are those with relatively high value products and where fraud or adulteration is a known problem or those sectors that use numerous raw materials and produce a variety of finished products so getting a much tighter control of everything coming into their facilities and everything going out to customers is really important
FNI: How will the partnership with 1-2-Taste expand the use of the software in Europe?
Carss: The need for food companies to demonstrate their products are of a high quality is particularly important to buyers who are not familiar with a supplier.
With 1-2-Taste we aim to provide this additional level of traceability and quality assurance to the customers and users on the 1-2-Taste platform.
Also Chemometric Brain can offer services to vendors on 1-2-Taste as well as to food producers purchasing on the site to confirm the quality is both high and consistent.
Outside Europe, 1-2-Taste have developed a great customer base in India so we expect that will be a focus soon.
North America is also of mutual interest.
FNI: How useful will this partnership be for this Covid-19 pandemic?
Carss: One the key challenges during the pandemic has been the urgent need to find new suppliers as existing suppliers has capacity issues.
The ability to find new suppliers whose products have very similar physical/chemical characteristics is crucial in having a more flexible supply chain.
1-2-Taste can help us in this, to connect food producers as well as suppliers to find production capacity.
At the same time Chemometric Brain can ensure production quality consistency and assurance.
This moves the discussion from a products characteristics based on a Certificate of Analysis to finding products that meet your specific requirements.
FNI: How has businesses evolved due to this pandemic?
Carss: As with everything in 2020 things have developed in unexpected ways – mostly in good ways!
Companies are much more willing to accept new ways of working and consider innovative digital approaches to transforming their business.
We are fortunate to have built some excellent relationships with key stakeholders across the food sector such as 1-2-Taste where, together, we can offer some very transformative approaches to issues in the food sector particularly around food fraud, quality control and traceability.