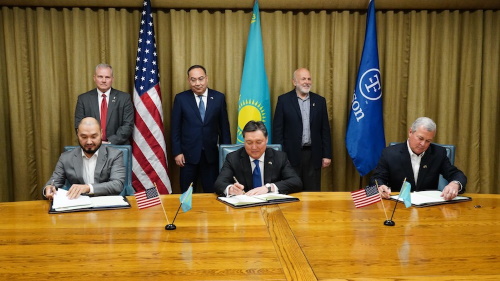 Tyson Fresh Meats, the beef and pork subsidiary of Tyson Foods has signed an agreement with the Republic of Kazakhstan and private holding company Kusto Group to collaborate on a project.
Its initial phase could lead to the construction of a modern beef processing plant in Kazakhstan, with an anticipated harvest capacity of 2,000 head per day.
The investment is projected to help provide an annual agricultural economic benefit to the country of more than US$1 billion.
Tyson Fresh Meats said Kazakhstan is the ninth largest country in the world by geographic area and has identified the livestock and the multi-protein export industry as a key growth market.
The country has an established beef industry which serves the domestic population with exports to the region.
The agreement with Tyson and Kusto Group is part of a broader initiative by the Kazakhstan government to expand and modernize agriculture, beginning with meat production.
Tyson Fresh Meats, based in Dakota Dunes, S.D., operates beef plants in Nebraska, Illinois, Iowa, Kansas, Texas and Washington.
The company's beef business generated US$15.8 billion in sales in fiscal year 2019.