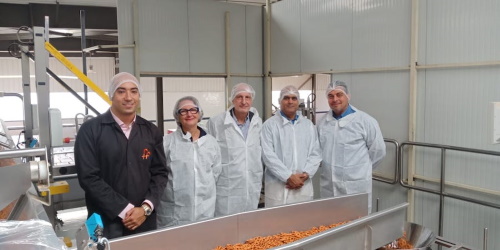 Egyptian snack manufacturer, Future Foods, launches a pretzel range installing a seasoning, processing and packaging line from tna.
This launch has helped Future Foods achieve 100% productivity at high speeds of up to 165 bags per minute.
The company required equipment to optimise seasoning application, capitalise on packaging efficiency and minimise waste to ensure the successful launch of its new range.
Requiring application accuracy of seasoning, the snack manufacturer opted for seasoning technology featuring a responsive variable mass seasoning mechanism with dynamic vibratory weigher, the tna intelli-flav OMS 5.
This allowed Future Foods to control seasoning application within the drum, resulting to an accurate, proportional amount of seasoning to be evenly applied to the product for consistent coverage and flavour dispersion.
Further performance benefits are achieved through the enhanced position of the scarfplate on the tna intelli-flav OMS 5 infeed.
Mounted to the edge of the drum, the scarf better directs the product into the spraying and flavouring area, providing an even amount of seasoning on each pretzel.
Additionally, the scalloped infeed conveyor design allows more product to enter the seasoning drum, while also helping to control product direction for greater seasoning accuracy and reduced waste.
This helped Future Foods achieve cost savings and increase profitability.
Smooth product transfer
It has also chosen the tna roflo HM 3 horizontal motion conveyor for a smooth product transfer through the line, while keeping product damages to a minimum, as there is no vertical lifting or bouncing of the product and no flavour build-up in the pan.
Unlike traditional conveyors that use mechanical gates, the patented 'true' gateless design of the tna roflo HM 3 helps protect the pretzels from damage with servo controlled 'virtual gates' that simply open up a gap between the pans where the product is discharged.
The risk of any potential damage to the product is significantly reduced and practically eliminates any loss of flavour.
With the installation of several tna systems, including the tna roflo HM 3 and tna intelli-flav OMS 5, breakage level from seasoning to packaging is less than 0.5%.
High-speed, efficient packaging
Offering a new range of pretzels in 16g, 35g and 100g pillow-style bags, Future Foods was looking for a system that would deliver consistently high speeds.
It also required quick changeovers to maximise throughput and reduce downtime.
With the installation of two tna robag FX 3ci vertical form, fill and seal packaging systems, the production line offers flexibility and improved performance in a compact, easy-to-clean set up.
With their rotary double jaws, the new baggers could deliver speeds of up to 165 BMP, while quick-release formers ensure that Future Foods is able to change between bag sizes in less than three minutes.