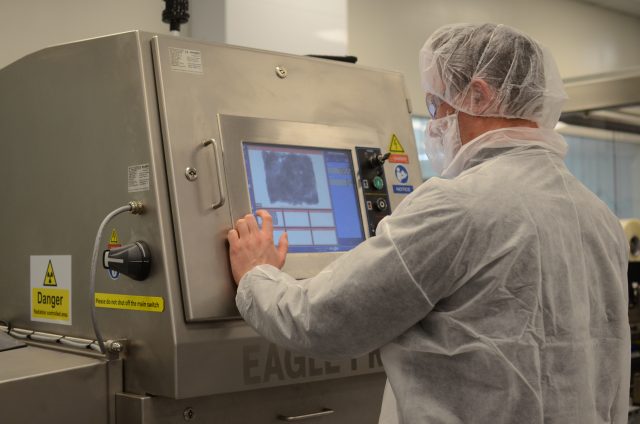 Driven by increasingly stringent regulations, headline-making recalls and an emphasis on building a stronger organizational safety culture, food safety remains a top priority and goal for food and beverage manufacturers worldwide.
Protecting products and brand reputation through measures that identify and prevent risks and deliver greater traceability, such as the use of advanced x-ray technologies, is pivotal to staying compliant with regulatory standards and staying or becoming profitable.
Safety first
From a regulatory standpoint, navigating rules and requirements are more complex, challenging and time-consuming than ever, given the number of regulations, the overlap among them and the nuances that impact daily operations.
There are also some key standards that affect the international food industry and its members' efforts to maintain or improve safety and quality through measures like x-ray inspection.
One example is ISO 22000 and the accompanying Food Safety Management System, FSMS, strategies for maintaining a compliant food safety program, which underscores the importance of mitigating risks from hazards like physical contaminants.
Another overarching guidance for food manufacturers around the world is the Hazard Analysis Critical Control Point (HACCP) system that focuses on key points of vulnerabilities in production processes, including those where x-ray machines can be deployed.
For a majority of food companies, HACCP plans are a basis for Global Food Safety Initiative (GFSI) standards and are required by the British Retail Consortium's (BRC) Global Standard for Food Safety.
The BRC, which is followed by many international food companies, was updated in 2018 to include a greater emphasis on improving an organization's food safety culture and to provide clarity on requirements for high-risk production zones, among other changes.
During BRC audits, manufacturers can demonstrate their use of x-ray inspection as a proactive and preventive measure.
To stay compliant with these and other standards and requirements, manufacturers use x-ray technologies at several points in their production chain to find and reject contaminants before they pose food safety hazards.
In addition to identifying foreign materials, x-ray systems can be used for pivotal quality checks, from package integrity to fill level to component count, among others.
X-ray systems deployed at critical control points are an important component of HACCP programs.
"Many principles of HACCP, including the identification of critical control points and the establishment of monitoring procedures, corrective actions and documentation procedures, can be checked off a processor's list with the use of advanced x-ray systems," says Travis Vaughn, lead trainer for Eagle Product Inspection.
"Inspection systems utilize sophisticated computing technologies to detect and reject foreign material contaminated products while providing detailed information for verification, recordkeeping, and traceability."
Recalls elevate concerns
X-ray systems are likewise crucial in preventing recalls, by detecting and rejecting contaminants.
Many recent recalls, in fact, have been tied to the presence of physical containment.
Over the last few months, recalls in the US have been issued for products ranging from pasta sauce that may contain pieces of plastic to frozen wraps with potential pieces of rocks to meat to chicken strips possibly containing pieces of metal.
Meanwhile, although many recalls in the EU were linked to pathogens and allergens, recalls have been issued in 2019 for products like pizza, walnuts and chocolates that might contain contaminants like metal, glass or ceramic.
"Putting x-rays systems in place instead of other inspection machines like metal detectors is a more comprehensive and successful method for improving safety and quality, given the variety of materials that are considered foreign bodies," says Vaughn.
"Besides finding metal substances, x-ray machines detect dense plastic or rubber as well as stone, calcified bone and glass."
He also cites other capabilities, such as dual-energy x-ray systems that use two energy spectrums to discriminate between high and low channel x-rays.
Dual-energy x-ray machines are effective in identifying physical contaminants in hard-to-read products, like cereal mixes or bagged salads.
The systems also allow users to discover missing or damaged product or damaged or altered packaging by discriminating materials by their chemical composition/atomic number.
Small contaminants and inconsistencies pose sizable risks
As many ingredients are used to make bakery, snack, confection and convenience products, inspection at different points in the production process, from the receipt of incoming goods to inline processes to final packaging, provides more protection against recall-causing hazards.
It also shows proof that steps were taken to stay compliant with regulations and produce the safest, highest quality products possible.
Travis Ratcliff, service manager, North America, for Eagle, provides technical expertise and support to manufacturers around the world and underscores the importance of deploying the right inspection system at the right point.
"We were recently at a potato chip plant doing routine maintenance and inspecting finished boxes of bags before they went out the door when we found a stone."
"It had made it all the way through the process to the final package," he says, adding that the stone had wedged itself into the chip, making it difficult for a vision or metal detector system to find.
An x-ray system was able to catch that hazard and regularly detect more of such foreign bodies, says Ratcliff.
He recounts another instance when a dual-energy x-ray system was able to discern a physical contaminant from a nutty ingredient in a carrot cake product in a supermarket chain's in-store bakery.
In another example on a line of boxed macaroni and cheese products, x-ray technology was able to detect small pieces of metal that had become embedded in packaging from the box supplier; if not found at that point, those contaminants could have passed through to other stages in distribution and consumption.
Manufacturers who use x-ray systems report a greater ability to shore up safety and quality.
Edesia, a non-profit organization and social enterprise that manufactures specialized ready-to-use foods (RUFs) to help feed malnourished children internationally, recently added an x-ray machine to inspect its Plumpy'Nut 'miracle solution' foods.
"What really sets our quality program apart is moving away from metal detectors. Edesia wanted to obtain at least a 3 mm detection rate for stainless and ferrous steel in our products, which we couldn't get with metal detectors," says Ron Yanku, plant operations director at Edesia.
"This new x-ray machine can detect down to 2.5 mm in our Plumpy'Nut products."
"Now we can also successfully detect glass contaminants which were previously impossible with other detection methods."
The team at Boulangerie St-Donat in Quebec, Canada, integrated an x-ray system into its line and subsequently improved detection capabilities and traceability.
"It's given us data on common contaminants, as well as on over- and under-weight products, and we've dramatically increased the number of products that were captured with a contaminant before they were sent to the market," says company president Guillaume St-Amour.
"Every product that passes through the x-ray system is tracked and that data is kept in a file so if we need to search for a past problem, it's easy and fast."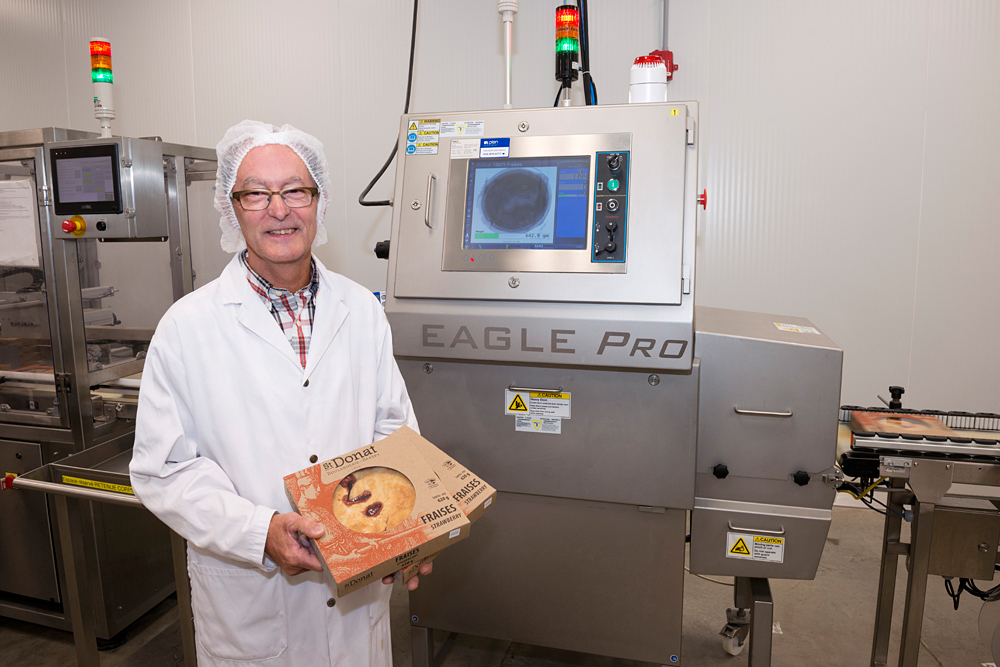 Opportunities and challenges
X-ray technologies are continually refined and improved to detect ever-smaller contaminants and perform important inline quality checks that help food companies meet internal and external standards and, as in the examples above, prevent hazards from moving through to the final product.
The technologies are also evolving to meet the changing needs and demands of the marketplace, with machines that operate in a smaller footprint and offer a lower-energy environment, for example.
In addition, software programs that power the systems are also regularly updated and customizable to operators so they can get real-time analysis and easily retrieve information and images from a central database.
Amid growing demand for demonstrable traceability, software systems enhance the reporting and quality assurance traceability of x-ray systems and also help assure compliance with global food safety regulations and principles, including HACCP.
Even as technologies advance, machines operate in real-world settings and, as with other equipment, failures can happen in day-to-day operations, such as:
– Parts can wear and fail.
– An x-ray machine can be improperly shut down by a user.
– An operator may not set up the guardrails correctly or not realize that the product has been wrongly placed on the belt.
To address or prevent such failures, operators can check if parts are under warranty and can be replaced quickly.
Routine maintenance and regular employee training are pivotal and especially important in economies with high turnover rates and labor shortages.
"Preventive maintenance is always a good idea. X-ray machines are at critical control points and are key functions of safety programs, so they should be taken care of proactively," says Ratcliff.
Ultimately, there can be a significant cost of not having x-ray systems in place.
UK-based confectioner Thorntons has for example integrated several x-ray inspection systems, which have also helped them maximize line efficiency and improve process control and quality that are essential for audits by external bodies.
"Customer experience and quality are key drivers for us, especially in terms of brand protection," says Mark Campion, Thorntons' continuous improvement manager.
"We measure quality satisfaction by customer feedback and the consequences of poor quality would be product recalls and loss of customers."
Story by Christy Draus, marketing manager, Eagle Product Inspection.