The food and beverage industry witnessed a revolution with the advent of artificial preservatives in the past, which facilitated mass production and widespread distribution, while paving lucrative avenues for growth.
These preservatives endured with esteemed popularity in the industry, with their applications extending beyond shelf-life extension to inhibition of discoloration and natural aging.
However, artificial preservatives have been criticized lately, on the back of their health impacts including obesity and gut diseases.
Although the process of replacing the artificial preservatives is far from being trivial, food and beverage manufacturers have been eyeing plant extracts as potential, all-natural food preservatives.
Going all-natural
 
The move toward all-natural in the food and beverage industry has shifted from being ephemeral to pervasive.
Food products with natural labelling continue to gain widespread acceptance, translating the trend of clean-label into a standard for manufacturers.
There has been a constant struggle in the shift toward natural food preservatives, as some of these preservatives reintroduce ingredients that are meant to be eliminated – nitrites and nitrates.
Food-grade industrial gases have been deemed effective natural alternatives to artificial preservatives, extending shelf-life of products while the industry shifts away from preservative-laden food and beverage products.
 
Regulatory norms
 
It is becoming more and more evident that chemicals found in artificial food preservatives pose hazardous impact, particularly on children's health.
In response to the issue, a new policy statement of the American Academy of Pediatrics (AAP) has proposed reforms to the food additive regulatory process of the US.
The US has deemed numerous food additives for food preservation under 'Generally Recognized as Safe', eliminating the requirement of approval from the Food and Drug Administration (FDA).
 
The AAP has recommended for a more stringent and transparent GRAS designation process, which includes toxicity testing prior to its introduction to the market, in combination with retests of previously approved chemicals.
The move toward constraining the use of artificial food preservatives is also becoming pervasive across other developed markets.
The EU has taken steps to implement stricter rules on misleading utility of plant extracts, along with labelling of botanical preservatives as flavors.
 
Noting the non-compliance of preservatives used with the quantum satis principle, which indicates use of additives in accordance with good manufacturing practices, the Standing Committee on Plants, Animals, Food and Feed, imposed norms on use of these preservatives.
These regulations allude cost-intensive shift for food and beverage manufacturers, entailing the requirement for partnerships and collaborations between different food additive producers.
Growing scientific interest in natural food preservatives has also led investments in research and development, alongside manufacturers' focus on regulatory approval for their products to leverage the potential of these lucrative plant extracts.
Opportunities for natural food preservatives in developing markets, such as in Asia, are also immense, in light of the population density, and the potent middle-class consumer base who are willing to pay more for healthier products.
Several research studies are being carried out by scientists in the region, such as the 'game-changing', clean-label, and natural preservative discovered by researchers from the Nanyang Technological University (NTU).
It is evident that such breakthroughs in the development of natural food preservatives will facilitate positioning of food and beverage products to keep up with changing consumer lifestyles.
 
The shift from artificial to natural preservatives has picked up pace, with a palpable rise in the number of companies with innovative solutions for food and beverage manufacturers.
Efforts of these players is not only directed toward achieving the sustainability quotient, but also to a good business sense, as consumers are willing to pay more for healthier, natural-based food.
Key examples companies making a shift or taking initiative toward natural food preservatives have been listed below.
 
· A Brunswick-based startup, Chinova Bioworks, which produces mushroom-based natural preservative, received US$2 million in seed funding from global leading food-tech investors.
DSM Venturing BV, and Rhapsody Venture Partners, have deemed Chinova's innovative and unique natural preservative as effective solution, as this preservative enables customization to tacks individual microbial issues of food & beverage manufacturers.
Chinova further claims its preservation technology to comply with standards of clean label, which has become an essential requirement among food producers and consumers alike.
· Lanxess has expanded its portfolio to include a natural preservative, in a bid to cater growing demand for natural ingredients-based beverages.
The US FDA has already approved the product, and the company is set for initial launch of its natural preservative in the region.
· Corbion introduced its clean-label mold control natural preservative that equals the performance of calcium propionate.
The preservative, Verdad MP100, is prepared through combination of natural flavors and vinegar, to deliver the taste neutrality and functionality of calcium propionate, while complying with the clean-label standards.
The company has initially been targeting the bakery manufacturers, as combating mold inhibition in the industry is crucial, and Verdad MP100 performs well in commercial bakery foods.
 
Natural antimicrobials
Antimicrobial agents added to foods inhibit microbial growth, preventing food spoilage and deterioration while extending its shelf-life.
The appeal of natural antimicrobials is hinged at its effectiveness in natural form at low concentrations, catalytic action in terms of sensory impacts, and non-toxic nature.
While synthetic antimicrobials have already gained ubiquitous acceptance in the food and beverage industry, manufacturers have been constantly seeking natural alternatives to their possibly toxic counterparts.
Food companies are putting efforts to achieve 'clean' and 'green' labels for their products, in line with the World Health Organization's recommendations to consumers apropos of salt intake and its impacts on cardiovascular health.
 
Stricter requirements of the international regulatory agencies regarding approval for novel food preservatives include rigorous toxicological testing, along with in-vivo and in-vitro tests.
This time- and capital-intensive approval process makes the pursuit of natural antimicrobials unprofitable for additive manufacturers.
Additionally, there is a lack of knowledge about the natural antimicrobial preservatives among consumers, despite their awareness about the natural food additives.
However, key preservative manufacturers, such as Arjuna Natural, are lining up an array of new products that retain taste and organoleptic properties of the food, including natural antimicrobials.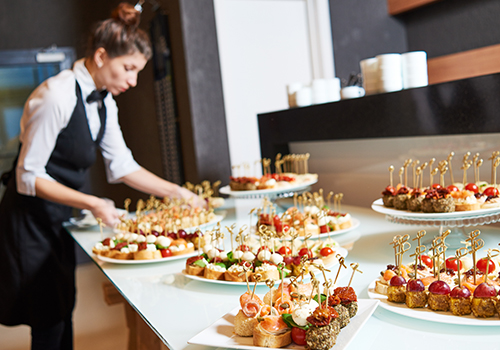 Using nanotechnology to make a difference
 
The food and beverage sector underwent a tremendous transfiguration with the emergence of nanoencapsulated food preservatives, as these enabled enhancing nutritional content and safety of food matrices.
Opportunities and benefits of nanotechnology in food science are ceaselessly being explored, however, there exists an unmet requirement for a proactive approach to resolve uncertainties linked with potential risks and knowledge gaps.
Interdisciplinary research approaches are being adopted for risk evaluation of nanoencapsulated food preservatives.
 
It is highly likely that tracking advancements in nanotechnology will highlight potent processes for its application in the development of natural food preservatives.
Utility of nanotech is already permeated into modern tools and methods of controlling structures, acting as key enablers of value-added properties in food products.
Myriad food preservatives, including antimicrobials and antioxidants, are rather used in nanoscale formulation than being applied in their pure form.
This has further led the formulation of several nanoscale matrices, ranging from nanoemulsions to nanofibers, among which, nanoemulsions have witnessed widespread acceptance in natural preservation, fortification, and enrichment of food.
 
Continuous search for natural ingredients-based foods has directed the focus of food manufacturers toward balanced nutrition panels, trustworthy sourcing, and methodical yet simple labeling.
Clean-label products have witnessed a marked preference among consumers, in line with the health and wellness trend, which in turn has led the popularity of natural food preservatives.
Prospects of natural food preservatives seems promising, as these naturally occurring ingredients continue to offer competent functionality compared to their chemical counterparts.
 
Article by Mahesh Hegde, Fact.MR.