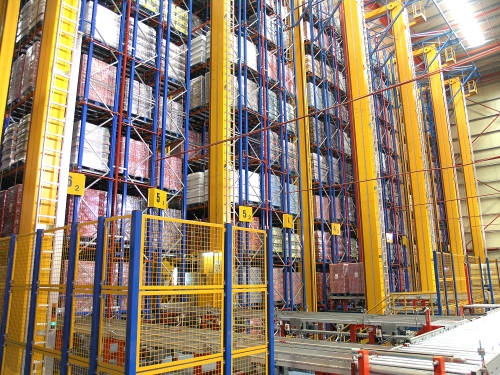 Automated cold store warehouses are fast becoming popular in the cold chain industry.
Cold chain operators are facing complex challenges, such as rapid decline in warehouse manpower, rising costs of land space and operating energy, and increasing demands from consumers for faster, more accurate orders.
To stay competitive, cold chain operators must look for logistics solutions that increases efficiency at minimal cost and energy, and the automated warehouse offers many unique advantages.
Here are 5 key benefits of automating cold warehouse facilities.
Storing more on a small floor space
When it comes to storing large number of pallets, an automated high bay warehouse will definitely achieve a higher storage density than a conventional warehouse.
A high bay warehouse — which can secure storage capacity beyond 40m in height — guarantees optimum space utilisation.
High bay warehouses reduce reliance on man-operated material handling equipment significantly, which allows them to occupy only 30% of the land space that a conventional warehouse would, or achieve a higher storage capacity within an
available area.
Managing and maintaining inventory is one of the most important tasks for efficient warehouse operations, and solutions like automated storage and retrieval systems (ASRS) are well-suited for these tasks.
In cold store warehouses, inventory typically consist of raw materials, work-in-progress products, or finished goods.
With consistent and safe product handling, ASRS can help to ensure proper storage and inventory control of food products.
An example is segregating raw and cooked food products in separate cold store ASRS chambers, to reduce the risk of contamination.
Continuous temperature monitoring systems are also available to keep tabs on freezer and refrigerated storage temperatures.
Furthermore, if there are any sudden changes in storage temperatures, or if an error occurs, an automated system can be programmed to automatically send alerts to employees, giving them enough time to either fix the problem or move the products to another area before products degrade.
Automated solutions like the ASRS also transform small floor spaces into warehouses with high storage density capable of storing thousands of pallets, allowing inventory to be moved quickly, safely, and precisely.
Warehouse automation reduces the need to rely on human labour and manual operations, hence reducing the risks of accidents, injuries, and human error.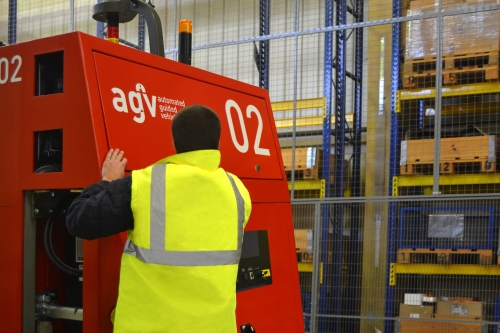 Reducing warehouse energy costs
As energy costs continue to rise, many cold store operators are looking to automation.
With high bay temperature-controlled warehouses, cold store operators can expect reduced energy costs.
Eliminating manually operated equipment like forklifts in automated warehouses also help to lower energy consumption, as doors to temperature controlled areas do not need to open as frequently for access.
Safer work environments
Employee turnover rates in cold store and freezer environments are higher than that of ambient warehouses, as employees expect better work environments and work safety today.
For these reasons, cold store operators are finding it increasingly challenging to find the employees they need.
Automated high bay warehouses reduce the need for warehouse operators to work in freezer environments.
With automation, pickers no longer need to enter the freezers, where temperatures can go as low as -28°C, to carry out order picking.
Instead, the products will be presented to them through Goods-to-Person automation in an anteroom with improved ergonomics.
Furthermore, automating product flows within the warehouse allows manufacturers and cold store operators to achieve new levels of efficiency and safety.
Eliminate risk of damages
Freezer access doors in conventional temperature-controlled warehouses are often damaged by mishandling of manually operated material handling equipment like reach trucks or Very Narrow Aisle (VNA) trucks.
Racking in conventional warehouse are also often damaged, which creates an unsafe work environment, as the racks might collapse and cause fatalities in the warehouse.
With fully automated storage and retrieval systems replacing manually operated material handling equipment, such unsafe working conditions are greatly minimised in automated warehouses.
Automated F&B storage solutions such as an ASRS can eliminate the need for manual material handling equipment such as forklifts, which may damage racking, doors, and products.
With automation, manual labour requirements in a warehouse can be greatly reduced, and products are more secure from pilferage and tampering.
F&B operators will do well to invest in building elements, such as fire shutter doors and high-speed doors, as they provide insulation and minimise heat loss due to leakage of cold air during material flow transfers.
In an incident where a product is suspected of being contaminated, spoiled, or damaged, F&B operators will be able to — with the help of Warehouse Management System (WMS) — trace the source of the damaged food product and rectify the problem quickly.
In an automated warehouse, however, the WMS can 'quarantine' or lock the storage and pallet location of the products suspected of spoilage.
This will prevent operators from retrieving the items until a supervisor or warehouse manager removes the 'quarantine' status.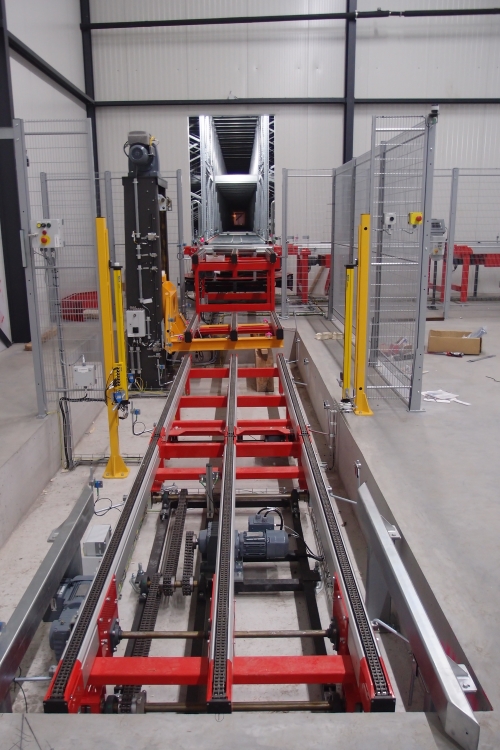 Improving inventory control and accuracy
Inventory accuracy is improved with digitisation and dedicated warehouse management software available in today's market.
In conventional warehouses that employ manually operated equipment, human error is often the cause of inaccurate storage locations and order picking.
In a bid to rectify wrong deliveries, cold store operators will have to find ways to deliver the right orders to their customers within the same day, hence incurring unnecessary costs.
Redeliveries can also cause significant damage to the manufacturers and distributors' brand reputation, which might result in loss of repeat customers, and failure to attract new ones.
For F&B operators, there is a concern on the risk of inventory obsolescence.
They need to have a system in place for tracing lot and date codes of products to ensure a 'first in, first out', or a 'last in, last out' method of inventory rotation.
These inventory management techniques utilise the concept of shipping product in the order that it is received or produced.
Most importantly, both techniques help to reduce cost of obsolete inventory.
In an automated warehouse, the ASRS utilises a warehouse management system to ensure that perishable items are retrieved before they expire.
Risk of food contamination is also a relevant concern that can be greatly reduced with the use of automated warehouse management solutions.
The right system will allow F&B operators to rely less on human labour, to decrease human error, and to operate with sterile, human- and bacteria-free material handling equipment, so they can focus their efforts on other areas of their business.
Another area of concern F&B operators have is breaking the cold chain.
Currently, F&B operators may have little or no visibility of when delivery trucks will arrive at the warehouse, which gives them very little time to pull out the necessary goods for transport.
Software solutions such as WMS, will be able to plan the retrieval of products prior to, or upon the arrival of delivery trucks, minimising the time needed for any items to be staged in the ante room, therefore improving food safety.
Warehouses are full of specialised equipment that move, store, control, and protect goods safely and efficiently through the manufacturing and distribution process.
Regular inspection of material handling systems reduces the risk of unexpected major equipment failures, as problematic areas will be identified in routine checks.
If a cold store warehouse is not regularly maintained, manufacturers run the risk of facing cooling system breakdowns, jeopardising the quality of products in storage.
At a minimum, F&B operators should invest in regular maintenance to ensure high inventory accuracy and visibility.
Article by Louis Kok, Head of Marketing & Sales, Consoveyo Singapore.