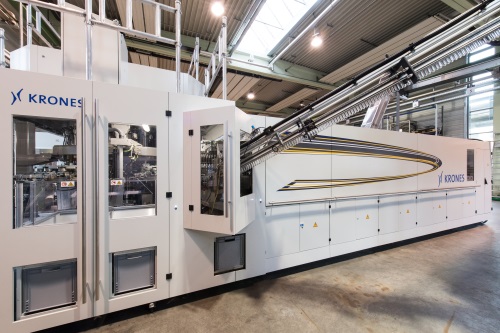 Krones releases its Contiform 3 Speed with two mold halves that are held together with an upgraded mold carrier locking mechanism in a stretch blow molding machine.
A conventional stretch blow-molding machine would have a pressure pad in the mold carrier holds the two mold halves together during the stretch blow-molding process.
In the previous small-cavity mold carriers so far only bottles up to a maximum size of 0.7L could be produced.
Without the pressure pad, molds can be installed with which bottles up to a volume of 2.0L can be blow-molded – and all this on the size of a previous small-cavity blow module, which is on average 22% smaller than the comparable blow module of the Contiform 3 Pro.
The absence of the pad also creates additional serious savings, of up to 15% high-pressure compressed air in comparison to all other stretch blow-molding machines currently available on the market.
In terms of output, Krones has combined the advantages of a smaller blowing wheel and the machine's reduced size with some further kinematic optimizations.
This results to an output from 2,500 with the Contiform 3 Pro to 2,750 containers per cavity/hour with the new system.
Given the maximum number of 30 cavities, it can thus produce up to 82,500 PET bottles per hour.
In all, the Contiform 3 Speed covers machine sizes from eight to 30 cavities.
With its three possible configurations – classically manual mold change-overs, no-tools-needed quick-change system, and the fully automatic variant MouldXpress Robot – the molds can be individually matched to the producer's wishes, even as a retrofit job.
Krones has also revamped its existing Contifeed preform roller sorter with simpler adjustment and change-overs, thus enabling enhanced overall equipment effectiveness to be achieved.