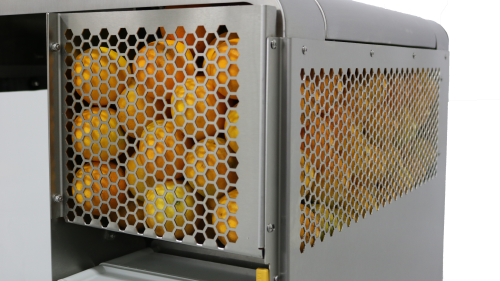 JBT unveils the next generation of Fresh'n Squeeze Multi Fruit Juicer, that is faster, more attractive and easier to operate than the classic system.
Previewed at National Restaurant Show 2018, the juicer offers a 65% increase in juice output over the existing model, as well as a more open and appealing design.
Capable of handling up to 33 pieces of fruit per minute, the machine can produce 55 gallons of fresh juice during every hour of operation, up from the 33 gallons per hour delivered by the previous model.
In addition to moving from a one-case to a two-case hopper, the juicer has viewing windows showing the juicing process and increased visibility of stored citrus.
JBT Master Distributor Juicernet by Mulligan Associates at the National Restaurant Show, where company founders Bonnie and Gene Mulligan showcased the system to visitors from across North America.
Mulligan, which has been JBT's exclusive representative in North America for the past 18 years, highlighted the system to many of its 2000 dealers from across the US and Canada as part of its 33rd consecutive appearance as an exhibitor at the trade event.
"The new JBT Multi Fruit Juicer brings a real theater effect because you are able to see what's going on inside the juicer," said JBT Master Distributor Juicernet's co-founder Bonnie Mulligan.
"Eliminating all the casing and making it stainless steel makes it much easier for cleaning, while the increased speed is another huge benefit."
"It will help having a two-case hopper instead of a one-case hopper, and it just looks so much newer and fresher."