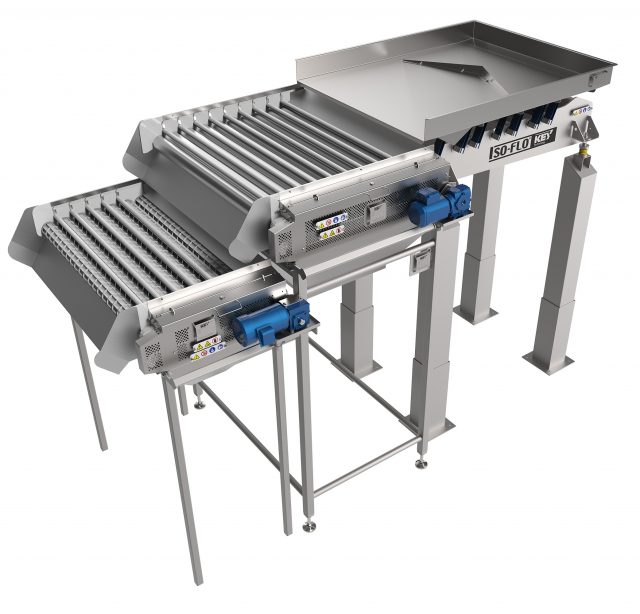 Key Technology expands its rotary sizing and grading systems for green beans, which includes their popular Sliver Sizer Remover (SSR), Precision Size Grader (PSG) and Rotary Size Grader (RSG).
With the introduction of a new 14-roller PSG, Key enables processors to replace drum graders with minimal impact to surrounding equipment.
The 14-roller PSG provides four rollers more than previous systems to improve grading performance.
The PSG separates beans by diameter, maintaining accuracy over time to help processors make grade while maximizing yield.
Ideal for grading snipped and unsnipped whole and cut green beans for fresh pack, frozen and canned product applications, Key's rotary sizing and grading systems are available in widths of 2, 3, 4 or 5 feet (0.6 to 1.5 meters).
All are 100% metric, with metric fasteners, bearings, shafts and sprockets.
Achieving capacities of less than 4,000 and up to 13,000 lb. per hour (1.8 to 5.9 mt), processors rely on Key's rotary sizing and grading systems at multiple points along their production lines.
For frozen and canned green beans, SSRs are often found outside the factory at receiving where they grade a digital sorter's reject stream to reclaim good product from field debris. After snippers, RSGs remove stems and small pieces prior to digital sorting to maximize the performance of the sorter by reducing its load.
The main grading area usually follows digital sorting where one or more PSGs are used to separate green beans into two or more grades by diameter.
For fresh pack green beans, a typical production line layout has a PSG feeding an RSG upstream of a digital sorter. Utilizing this sequence of mechanical separation systems and optical sorting helps customers achieve the highest possible product quality and production efficiencies.
Compared to drum graders, which are complicated machines with many moving parts, the PSGs reportedly offer a much smaller footprint than drum graders with the same throughput, while achieving gentle handling and reducing maintenance.
They hold the grade over time, which improves final product quality and increases yield. With an open design, fully welded frame and one-piece block pan, they enhance sanitation.
When replacing a drum roller on an existing line and matching the footprint is desirable, the new 14-roller system is ideal.
Rolling beans
The PSG separates green beans by diameter.
Featuring a series of rollers with gaps in between, thin and curled beans fall through as thicker beans are conveyed across the top.
The rollers spin at progressive speeds, e.g., the second spins faster than the first to spread product and optional deflectors turn beans, ensuring every bean has the chance to fall through.
Rollers are faceted and textured to create gentle agitation so product is lively across the top to either find a gap or roll along.
Processors around the world rely on the versatile PSG to achieve their grade, regardless of regional differences.
For example, a US processor that considers thicker beans to be of premium quality configures their line so product that is conveyed across the top of a PSG is further processed.
A European processor that regards thinner beans to be premium takes the product that falls through the PSG and conveys that to the next step in the processing line.
The gaps between the rollers of the PSG are easily adjusted to change the diameter threshold to modify the grade or process different green bean varietals or other products such as potatoes or carrots.
Simply rotating the single handle quickly and accurately adjusts all the gaps consistently throughout the machine to grade by a new size cross section.
The PSG can be adjusted and cleaned to handle a new grade or product in less than 10 minutes.
The PSG and RSG can have an optional variable frequency drive to enable adjustments in motor speed to handle changes in throughput, product condition or the aggressiveness of the grade.