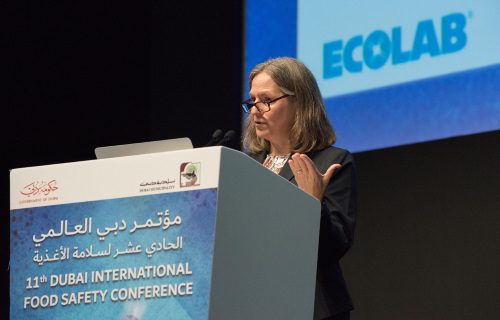 The adoption of new technologies such as the Internet of Things (IoT) Big Data and Data Science will ensure food safety, improve sustainability and help "bury the food bug", said
Dr. Ruth Petran, Ecolab's VP of food safety & public health at the Dubai International Food Safety Conference 2017, organized by Dubai Municipality.
"Data is a powerful tool for monitoring, controlling and verifying the causes and issues that lead to foodborne diseases," said Dr. Petran.
"Mitigating food safety risks requires a holistic approach, from considering sustainability or questions surrounding local sourcing, to the inherent logistic complexities of today's global supply chain."
Although foodborne diseases rank amongst the global community's most preventable illnesses, a recent World Health Organisation report reveals that almost one in 10 people contract a food-related illness every year.
The loss of otherwise healthy life years attributed to premature death and disability caused by food-related illness is 33 million years annually.
As the global public health concern deepens, Ecolab helps to ensure the quality and safety of 27% of the world's processed food at 5,000 food and beverage plants around the world every year.
The company also helps support kitchens serving 45 billion restaurant meals and helps clean 31 billion hands per year with its hand hygiene solutions.
At the event, Dr. Petran discussed using data to identify valid controls, and how to pull relevant insights to drive food safety and ensure focus on relevant global risks.
She revealed how clean environments, safe food, visibility and compliance, and training and awareness are all key components within a strong food safety program, and underlined the importance of understanding how the complex connections between these elements can impact food safety and quality.