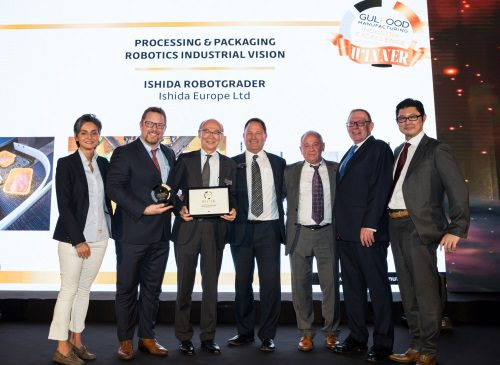 The inaugural Gulfood Manufacturing Industry Excellence Awards, held at the Armani Hotel Dubai has honored best practices and innovation across the food manufacturing industry value chain.
Held during trade exhibition Gulfood Manufacturing (October 31 to November 2, 2017), the award recipients are:
– Most Innovative Food Ingredient award: Archer Daniels Midland's Fruit Up Fiber, a low-glycemic and non-GMO ingredient for clean-label products,
– Most Innovative Health Food Ingredient: Novozymes' Spahera, a lactose-free, fermented dairy product,
– Major Plant Sustainability Initiative: Liven's Green Energy Snacks line,
– Greenfield Facility: Elettric 80's fully-integrated and automated system,
– Cost Waste Reduction: A Due Si Squeri Donato & Co.'s Niagara, a water-saving technology,
– Distributor and/or Integrator: Tetra Pak's Plant Master, an automation solution,
– Packaging Design: VF Verpackungen,
– Processing Innovation: Log5's dry food pasteurizer,
– Product Protection and Robotics Industrial Vision: Ishida's AirScan, a leak detection system, and Robotgrader, a fixed-weight packing for fresh poultry, meat and fish, respectively.
– Best Commercial Vehicle – Light Heavy: Ford Motor Company's refrigerated Transit Custom vehicle,
– Supply Chain Innovation: Transveritas Foodstuff Trading's intermediate bulk containers, Goodpack.