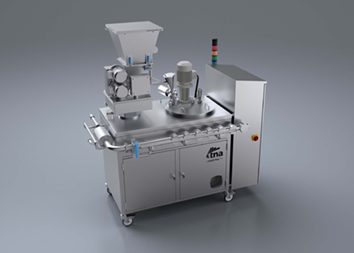 tna unveils a fully automatic closed loop slurry mixing and spraying system at Pack Expo.
The tna intelli-flav CLS 5 blends and applies slurry seasoning to a range of extruded and dry snack products.
Featuring a tank and up to six precision spray nozzles, the machine continuously monitors the under-surface mixing of the oil and seasoning powder to deliver a homogenous mix for a consistently flavored, high quality product with reduced slurry or product waste.
With four different spray lance designs, the tna intelli-flav CLS 5 integrates into smaller on-line seasoning systems like tna intelli-flav OMS 5 and larger, main-line seasoning systems such as the tna intelli-flav MLS 3.
The machine has a compact, single tank design with a low volume reservoir (50l/13gal) for minimal waste during the frequent flavor changes of short production runs.
"Shorter production runs with regular flavor changes have become the norm for a lot of our customers as they try to respond to consumer demand for greater variety," says David Woollard, group product manager – seasoning.
"However, for many, slurry mixing still remains quite a labor and time-intensive, batch-by-batch process that doesn't always produce the consistent, quality product they require."
Built to IP65 standards, the tna intelli-flav CLS 5 can easily withstand regular washdown procedures to meet the stringent hygiene regulations of the global snack food industry.
In addition, the system's nozzles feature tna's unique atomizing air control technology for an even slurry flow that reduces blockages.
An extended spray lance with seven nozzles and integrated auto-clearance system is available and can act as a failsafe, in which additional nozzles will be automatically activated until the original spray guns have been cleared, eliminating any interruption to the production flow.