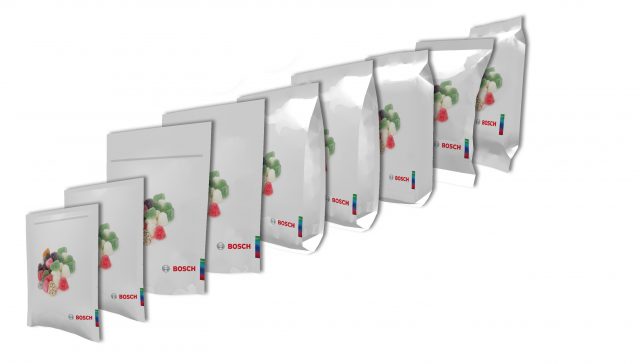 Bosch Packaging Technology will introduce vertical solutions at Pack Expo Las Vegas 2017.
The Yamato multihead weigher ADW-O-0314S and Bosch's SVE 3220 DZ vertical form, fill and seal (VFFS) machine are designed for confectionery, bakery, nuts and grain producers.
"Our system competence includes processing, product handling, filling and dosing, primary, secondary and tertiary packaging that can be linked together with both Bosch and third-party equipment for system automation," says Kelly Meer, product manager at Bosch Packaging Technology.
"The ultimate benefit of a single point of contact for the entire system makes this approach ideal for producers of all sizes."
North American confectionery, bakery and other free-flowing goods producers can use larger Doy Zip bag with the extension of Bosch's SVE platform.
Coupled with the Yamato weigher, the new solution offers high productivity, operational efficiency and format flexibility.
The SVE 3220 DZ can handle Doy Zip formats up to 320 mm high and 250 mm wide.
Additionally, the machine produces seven most popular bag styles, such as pillow, gusseted, block bottom, corner seal, full corner seal, three-sided seal as well as Doy and Doy Zip, with changeovers from pillow to Doy Zip taking as little as 30 minutes.
The bagger components also employ color codes to make changeovers clear and reproducible, eliminating operator errors and contributing to a total productive maintenance approach for maximized uptime.
Hole-punch feature
For a broader utilization of flexible films, Bosch has introduced a continuous motion process for punching holes and sealing the gussets of a doy bag together.
The new hole-punching unit allows the gusset to be sealed inner layer to inner layer.
The creation of the bottom gusset of the doy package is now matching the process of horizontal machines and can use the same popular film structures at a fraction of the footprint.
Hygienic design for frozen food
For producers of French fries, individually quick frozen, frozen vegetables, poultry as well as other free-flowing goods, Bosch will showcase its SVC 4020 vertical bagger together with the Ishida weigher CCW-RVE.
This hygienic solution allows producers to meet strict hygienic requirements through easy cleaning while addressing individual production standards and demands.
Furthermore, the continuous motion VFFS machine is designed for high uptime, easy set-up, operation and maintenance.
Changing pack styles and vacuum belts – as well as other adjustments – are quick and require no tools, thus reducing downtime.
Bag style flexibility allows foods manufacturers to choose from pillow, block bottom, gusseted and corner seal pack styles with various reclose and easy opening features in widths of up to 400 mm.