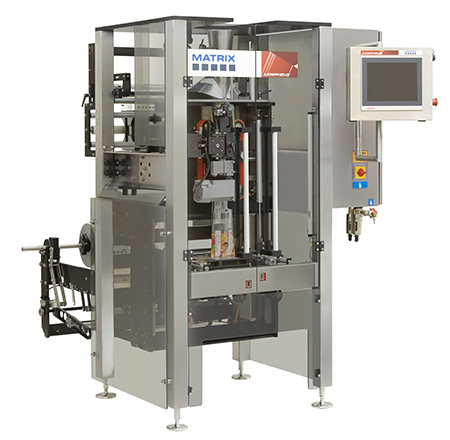 Matrix will exhibit a Morpheus XL with extra wide jaws for packaging frozen, fresh-cut, and individually quick frozen packaging at Pack Expo in Las Vegas, September 25-27, 2017.
It reportedly can do the work of two older and less capable form/fill/seal (FFS) machines.
It offers Rockwell Automation controls, drives, I/O, and an industrial computer.
It is intended for high-speed form/fill/seal (F/F/S) of bags up to 15 inches wide.
The Morpheus XL produces pillow bags from two inches wide to 15 inches, which is three inches wider than the original model.
It can run exceeding 120-bags per minute and is designed to run in intermittent mode as well as continuous mode.
It can also produce gusseted bags, expanding packaging operations capabilities.
The Morpheus XL features a redesigned stainless-steel drip pan, which makes it faster and easier to change forming tubes.
The new drip pan also keeps the interior of the machine cleaner.
Brands and copackers can now have a Morpheus F/F/S machine with either a Beckhoff or a Rockwell Automation control architecture and features such as:
CompactLogix 5380 controller for applications requiring high-performance communications, I/O, and motion control for up to 32 axes,
VersaView 5400 industrial computer featuring an open architecture for greater application flexibility,
Kinetix 5500 servo drives for support of integrated motion on EtherNet/IP, and
5069 compact I/O modules for high speed digital control, which have spring clamp terminals for vibration immunity.