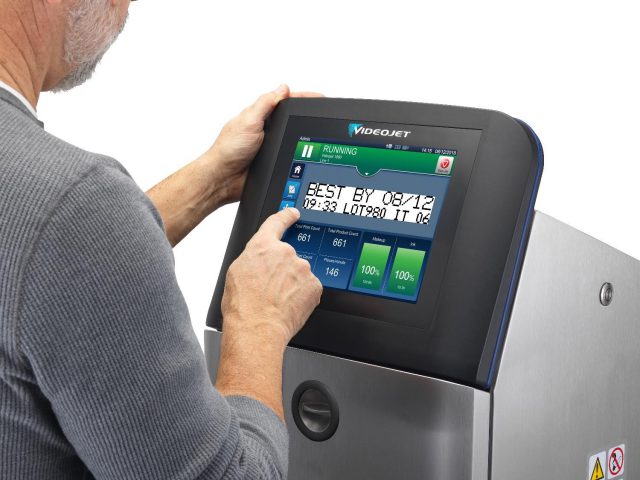 Using predictive capabilities like an ink build-up sensor, the Videojet 1860 continuous inkjet (CIJ) printer provides up to eight hours of advance notice of the most common potential fault conditions that can impact on line uptime.
It integrates on-board intelligence and communication abilities with technology elements to help meet manufacturers' needs.
The 1860 delivers uptime performance that can increase productivity and lower costs.
A suite of predictive capabilities allows for corrective actions prior to many of the most common downtime causing events.
The 1860 utilizes over 50 real time sensors to continuously monitor more than 150 key indicators of printer performance; providing expert diagnostics, analytics, and guidance.
The revolutionary nozzle system features a predictive gutter build-up sensor, and provides advance notice of the most common potential fault conditions.
Alert notifications are displayed on the printer and can be sent to a smart device, allowing for pre-emptive corrective action during line change over, or other planned production stoppage.
In addition, the 1860's fluid system features a make-up reserve tank, which can keep the printer in action for up to a full shift, even if a supplies refill alert is ignored.
The 45 degree slanted printhead design delivers increased versatility through better line integration, with more mounting options providing closer proximity to the product on the line.
The printhead can get as close as 2 mm to the product, even in gable top or other angled packaging applications, enabling crisper, higher quality codes.
In addition, the 1860 can adapt to a manufacturer's connectivity needs through simple integration with existing factory systems using industry standard protocols such as Ethernet/IP, Profinet and high speed network connection.
The airflow system of the 1860 directs clean, cool air to critical components in the printer, extending the stable operating temperature range to 0-500 C, even in the most challenging environments.
The 1860 is available with an IP66 rating, eliminating the need to remove the printer from the line during wash-down.
Videojet is also launching the VideojetConnect Remote Service providing operators access to a service network of technical experts at the touch of a finger.
This connects the Videojet technician directly to the line for immediate advice and remote problem solving, allowing for real-time corrective action, and minimizing reliance on in-house maintenance teams to deliver increased uptime.