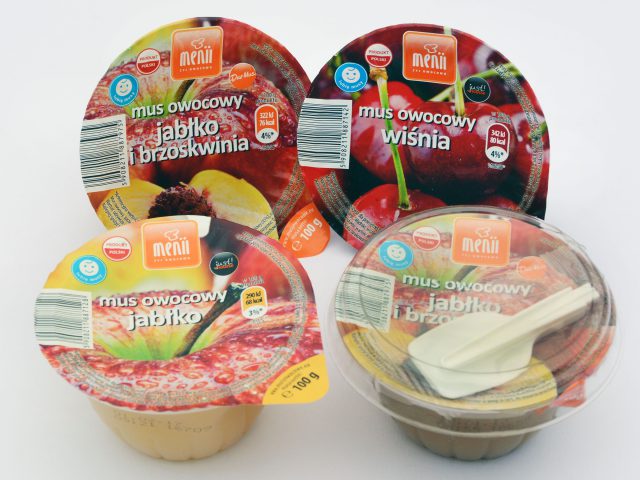 Effective product protection and on-shelf impact are being combined in a RPC Bebo Polska has created a thermoformed multilayer polypropylene pot for the Fruit Mousses range from Polish manufacturer Menii.
Menii is a family-owned company processing fresh fruit into healthy and delicious mousses that contain no preservatives, additives or food coloring.
They are available in flavors including apple, strawberry, peach, pear and cherry, as well as mixed fruit varieties and with added chocolate.
To ensure product quality and maximize brand awareness and image, Menii required an eye-catching and functional pack that would protect and maintain the freshness of the contents.
The Ro 84 tub from RPC Bebo Polska incorporates a barrier layer of ethylene vinyl alcohol or EVOH to prevent oxygen ingress and deliver an extended shelf-life.
The mousse is pasteurized in the container and then sealed with a colorful closure depicting the variety of fresh fruit in the pack to create effective shelf stand out in retail outlets.
The peelable closure and light easy-handling tub also ensure maximum consumer convenience.