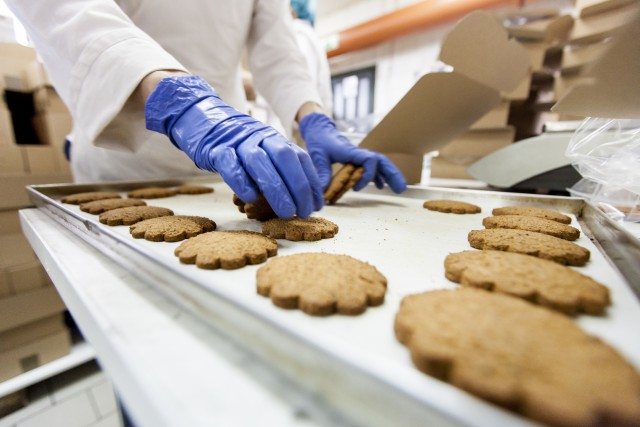 Unifiller releases its most versatile cookie dough depositor machine to date, the Uni-X Extruder.
Able to deposit viscous products like chunky doughs without damage, as well as portion control more easily, the Uni-X Extruder makes use of gentle extrusion technology to increase production yield and precision.
It is designed for stiff pastes, doughs, chunks, sports bars, gluten free mixes, marzipan fillings and meat products.
Officially launched at the IBIE 2016 show in Las Vegas, US, this machine can be used as a cookie depositor, burrito depositor, meat depositor or even a dough portioner.
"The Uni-X is available with a wire cutter for cookies pucks, a stamp cutter for shaped cookies like hearts, trees and gingerbread men, a sheeting attachment for shortbread dough and a cut-off nozzle for chunky and liquid fillings," says product manager Martin Riis.
The machine's programmable menu driver interface with photo sensor can store up to 40 recipes.
It can extrude sheets, rope and strands, in addition to cutting shapes.
Capable of up to 60 deposits per minute, the machine works at up to 360 kg per hour.
The compact, portable design includes a large hopper with 23 kg capacity.
A hopper extension of up to 80 kg is also available.
There is also an optional foot pedal and conveyor belt extension (40" x 9").
As with all Unifiller machines, its stainless steel tool-free design makes maintenance and wash-down quick and easy, with disassembly in under 60 seconds.