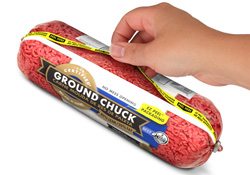 Cargill will offer EZ Peel packaging for its ground beef chubs in US retail stores from January 2017.
The technology developed by Bemis Company will be exclusively used for Cargill's Our Certified ground beef 1-lb. chubs in tube-shaped packaging.
A 2015 Cargill Innovation Study revealed that 57% of consumers surveyed wanted better ground beef chub packaging that allows them to open products without touching raw meat.
Additionally, the Flexible Packaging Association's 2015 Brand Value Study found 60% of its 2,000 consumer respondents identify "easy to open" as a top package attribute.