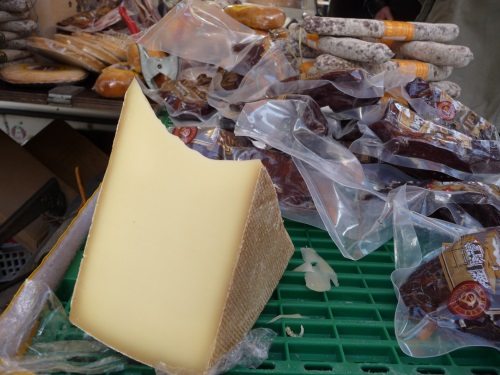 Reinventing cheese as a naturally-healthier snack is the biggest growth opportunity for dairy companies, reveals New Nutrition Business in its new report, 10 Key Trends in the Business of Dairy Nutrition.
Cheese has had a major boost from scientific research showing that it is one of nature's 'naturally functional' whole foods, with no negatives either from fat or sodium content.
Now, new sales numbers show that connecting cheese to the snackification trend spells market success.
One of the most successful products launched in the US, with first year sales hitting US$67 million, is Sargento Balanced Breaks, a snack that pairs cheese with fruit and nuts.
It highlights the convenience of a snack and cheese's naturally-nutritious properties.
The company retail its products at 150% premium to regular mass-market cheese.
"For profitable growth, premium niches are the highest-opportunity, least-risk targets in dairy. In almost every case the most effective strategy for profitable dairy growth is to begin by focusing on the low-volume, high-value segments of the market", says Julian Mellentin, director of New Nutrition Business.
Meanwhile, Spire Brands' Moon Cheese snack – dried pieces of Gouda, Cheddar, or Pepper Jack in a convenient pack – hit a US$10-million run rate in early 2016 with prospects to double annual revenues to about US$20 million in 2017.
For years cheese has been out of favor because of its high fat content and faulty research linking it to cardiovascular disease.
However, new consumer awareness about the health benefits of cheese means there is scope for growth in countries where cheese consumption has been low.
If US consumers were to reach the same per capita consumption of cheese as France, for example, the US market would double in size.
Dare to be dairy-free
Just when a critical mass of science revealed that dairy is a natural whole-food with a wealth of health benefits, it is faced with some new negatives (thanks to online bloggers), and these are helping fuel the dairy-free trend.
Danone has turned non-dairy into an opportunity by acquiring WhiteWave, thus becoming both one of the world's biggest dairy companies and the world's biggest non-dairy company.
Almond and coconut milk brands have been capitalizing on people's interest in digestive health (one of the most powerful trends in the food and beverage industry), positioning themselves as 'easier to digest' than dairy milk.
Addressing people's worries about dairy and digestive wellness presents a wealth of opportunities for dairy, as the A2 cows' milk brand has demonstrated in Australia, where it has taken a 12% share of the liquid milk market with its 'easy to digest' marketing message.