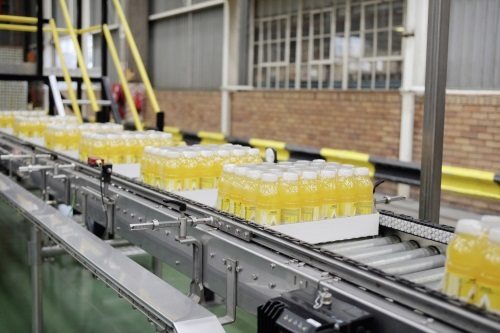 Coca-Cola Canners in South Africa has opted for a high-performance hot filling line from KHS for its juice and sports beverages.
It was decided to extend the company portfolio in the long term in order to develop this growth area.
With its four canning and two PET lines the production site in Wadeville just outside Johannesburg is one of the largest of its kind in the world.
Some 320 employees working round the clock make sure that around 350 million liters of near-water beverage Glacéau, sports beverage Powerade and the Coca-Cola, Sprite and Fanta brands leave the factory every year.
Hygienic bottling
Coca-Cola bottles iced tea, sports drinks and juices with and without fruit chunks on the new line.
The new pulpy beverages could not be bottled on the two existing lines for polyethylene terephthalate (PET) bottles.
Coca-Cola Canners decided on a system manufactured by its long-standing partner KHS, especially the hot fill technology for hygienic bottling combined with an output of up to 48,000 bottles per hour.
Like other KHS block systems, the new line covers all stages in production from stretch blow molding through filling to labeling, packaging and palletizing.
The line also processes fruit juices with a percentage of fruit pieces.
These fruit chunks must not be damaged during filling; at the same time the low filling dosage tolerances must be adhered to.
The company designed a line with two precision volumetric fillers.
On this the fruit pieces are first bottled with a little juice before the second filler tops up the bottles with the rest of the juice.
The entire filling process makes use of hot fill technology where the content is heated to over 100°C and then filled at a temperature of about 83°C.
This makes sure that microorganisms are safely eliminated.
With the new line Coca-Cola Canners is able to fill up to 48,000 bottles per hour holding between 0.3 and 1.5 liters.
After almost two years, Coca-Cola Canners ordered two more KHS packaging machines.