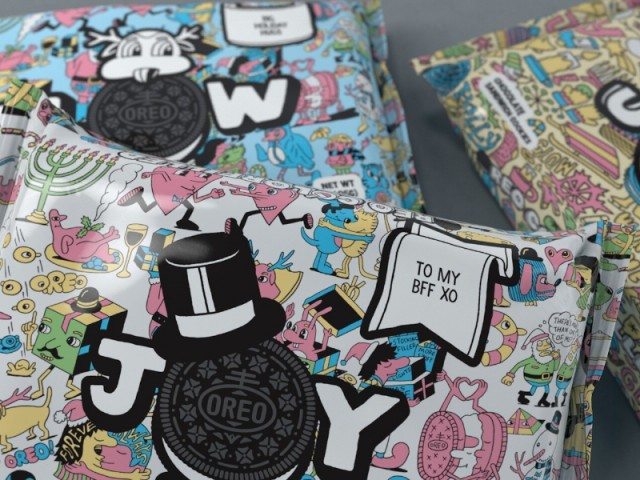 Mondelez has launched OREO Colorfilled for consumers to customize the packaging of original OREO cookies online.
For a limited period, OREO Colorfilled turns the cookie's wrapper into a canvas for imagination and personalization during the holiday season.
Available online, Colorfilled packs feature exclusive, illustrated black and white designs from graphic artists Jeremyville and Timothy Goodman such as waving snowmen, singing partridges, hugging penguins and moustached presents donning bowler hats.
The online Colorfilled experience is available via desktop or mobile and offers fans an easy way to create a completely custom package.
After selecting one of the artist designs consumers can zoom in or out to select the area of the design to color.
After picking a color to paint with, the site will either populate the design using the colors chosen, or users can manually fill in each image with a digital paint brush.
Consumers can also select some holiday flair to add to their Colorfilled pack with accessories like scarves and antlers, or even use the circular cookie to spell a holiday greeting, such as 'Joy' and 'Ho Ho Ho'.
Consumers can also order a color-your-own pack that will arrive in a black and white design of choice with custom markers.
Both online and manual options allow consumers to add something sweet with a personalized, heartfelt note in the top corner.
"The new OREO Colorfilled packs digital store is the first step in a larger e-commerce and customization strategy for Mondelez International as we work towards our vision of growing our e-commerce revenue to US$1 billion by 2020," said Cindy Chen, global head of e-commerce, at Mondelez International.